Posted on
Fri, Feb 3, 2012 : 10:46 p.m.
Huron boys basketball escapes with win against Temperance Bedford after watching 14-point lead disappear
By Matt Durr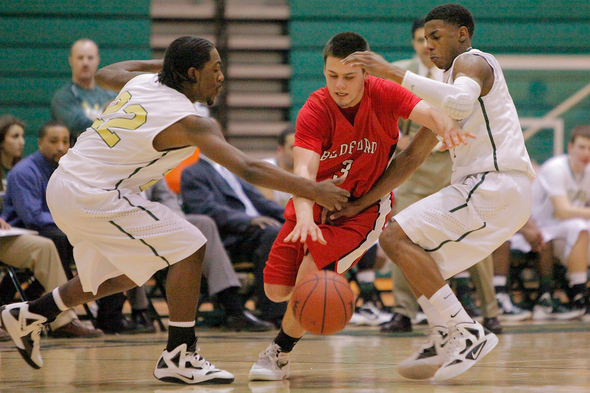 Chris Asadian | AnnArbor.com
The Huron High School boys basketball team survived a scare Friday night after nearly blowing a 14-point second half lead in a 60-55 win against Temperance Bedford.
"This is basically the first-place game. Give (Bedford) credit, they fought against us hard," said Huron senior Mike Lewis. "We played a tough one and we battled it out and got the win. It feels good to be in first."
With the win, Huron (8-4, 5-1) thinned the logjam atop Southeastern Conference Red Division. Huron is now tied for first place in the division with Pioneer, which defeated Saline, 47-39 on Friday. Pioneer, Huron and Bedford (9-4, 5-2) entered the night tied for the league lead.
Lewis led Huron with 15 points and five rebounds despite playing with an undisclosed injury. Although he was hurting, Lewis stayed on the floor for the majority of the game until foul trouble forced him to sit in the fourth quarter.
"I was just trying to give some leadership and moral support for my guys. Everyone else was playing so well, I felt like I didn't have to do anything," Lewis said.
More coverage: Boxscore at MLive.com | Photo gallery | Friday night roundup
After trailing by one after the first quarter, Huron confused and surprised Bedford in the second quarter, using a pressing trap defense to force 11 turnovers.
"Our press is a big part of our identity and we'll use it when we feel it's something we can use to our advantage," said Huron coach Waleed Samaha. "We felt like they shot the ball a little too well to just sit in zone."
The River Rats outscored Bedford 16-3 in the second quarter thanks in large part to the turnovers they created. With 2:08 left in the half, Huron held a slight 22-16 lead when Allen Thomas (11 points and five steals) knocked down a 3-pointer. Back-to-back turnovers by Bedford led to easy baskets for Huron and with 1:20 left in the half, Huron was up 29-16. That lead would carry into the break.
Thomas was a huge factor in the second quarter run, coming off the bench and scoring seven points and nabbing four steals.
"You gotta provide that energy," Thomas said
To open the second half, Huron kept The Kicking Mules at a distance until junior Jackson Lamb got going. Lamb scored six of his game-high 21 points in just three minutes and pulled down five of his 12 rebounds during that span.
However, a questionable call would send Lamb to the bench with four fouls and his team trailing 37-25 with 3:22 left in the third quarter.
Without its star player, Bedford would still cut the lead to seven points at the end of the third by pressuring Huron and forcing turnovers while capitalizing on foul trouble.
"They weren't going anywhere and we knew that," Samaha said.
When Lamb re-entered the game with 7:07 left to play, his team was trailing 49-37. He helped spark a 14-3 run made it 52-51 with three minutes remaining.
"The big thing with Jackson is, keep him off the boards," Samaha said. "He does such a good job on first shots; he's almost 100 percent on second shots. I thought we did a good job on him."
Kenneth McFadden would also provide a boost for the Mules, scoring seven of his nine points in the final quarter while pulling down seven rebounds.
"He's small stature-wise, but he has a huge heart and he plays extremely hard," said Bedford head coach Nick Lowe. "Those are the things that you ask for."
With the game slipping away, the River Rats played a style of basketball that would have made John Wooden proud. On two consecutive possessions Huron held the ball without attempting a shot for more than a minute.
On the first of those possessions, Lewis drained a 3-pointer.
"I was feeling confident, my teammates kept telling me 'keep shooting, keep shooting.' I felt it and I shot it," Lewis said with a laugh.
Bedford would answer with a layup, but couldn't find a way to get the ball away from Huron and was forced to foul. After splitting a pair, Huron made a defensive stop and Thomas would knock down the final two free throws to ice the game for the River Rats.
This was the second consecutive week that Bedford came back from a double-digit second half deficit to make the game close. But for Lowe, there are no moral victories.
"It's always disappointing when you don't win," Lowe said. "If we had the solution of how not bury ourselves in a hole we wouldn't."
Lowe would say that he was proud of his team's effort to make a game of it with Lamb on the bench and not letting the lead get out-of-hand, adding that he was looking forward to seeing both Huron and Pioneer on his home court.
Samaha knows traveling to Bedford is going to be a challenge.
"It's going to be tough going to their place," Samaha said.
Contact Matt Durr at mattdurr@annarbor.com.