Posted on
Tue, May 14, 2013 : 1 p.m.
Coach won't count chickens before they hatch, predicts future and more notes
By Pete Cunningham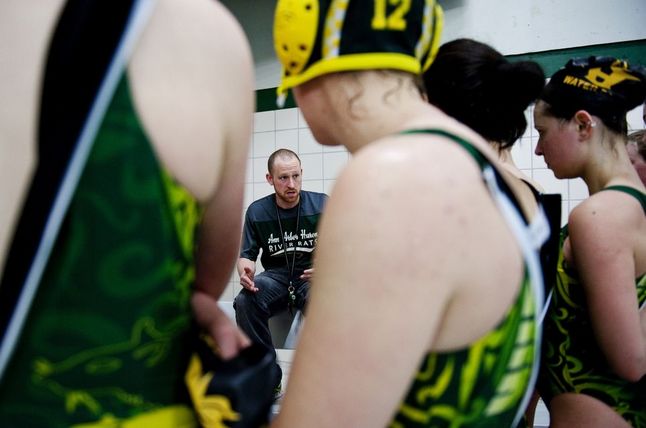 Daniel Brenner | AnnArbor.com file photo
Huron High School
water polo coach
Justin Thoresen
was careful not to count any chickens before they hatched on Friday.
Fresh off of advancing to the semifinal round of the Michigan Water Polo Association District 3 & 6 tournament - and hence advancing to regionals - Thoresen didn't want to talk about who his team would play in the finals because of the challenge Grand Blanc presented in the semifinals.
Thoresen did discuss the hypothetical situation of his team advancing to the final, but wouldn't go along with what seemed a foregone conclusion: that last year's state runner-up, Okemos, would be in Huron's opponent should it advance. This despite the fact that Okemos is the source of Huron's only two losses on the year, is ranked No. 2 in the state and has reigning state MVP Katie Dudley in the lineup.
Thoresen was confident crosstown rival Skyline could give Okemos a run for its money.
Daniel Brenner | AnnArbor.com file photo
"I think it's going to be a great game. I think it will be a one-goal game," Thoresen said.
His prediction came true and his apprehension to pencil in the Lady Chieftains in the final proved prudent as Skyline beat Okemos 7-6 in the semifinal. Huron ended up beating Skyline 5-3 in an all-Ann Arbor final.
The Eagles and River Rats weren't the only Ann Arbor teams playing in district finals. Pioneer beat Saline 8-4 in the District 4 & 5 championship at Saline High School. Just as Skyline took down top-seed Okemos, Saline beat No. 1 seed Dexter 6-5 in the semifinal round.
Pioneer, Huron, Skyline, Saline and Dexter will all compete at the East Regional championships at Saline High School on Friday along with Birmingham Groves, Okemos and Grand Blanc with the top four teams advancing to the state championships May 31 and June 1 at Rockford High School.
Bare bones
Two injuries left the 11-person Willow Run softball team with no wiggle room in its lineup on Wednesday and self-inflicted wounds eventually led to a forfeit.
The Flyers were already down to just nine healthy players against River Rouge when in the fourth inning a player was ejected for unsportsmanlike conduct in the team dugout. Rather than continue the game with eight players, coach Duane Edwards chose to forfeit the game. The Flyers bounced back and beat Dearborn Heights Robichaud on Friday.
Athletes of the Week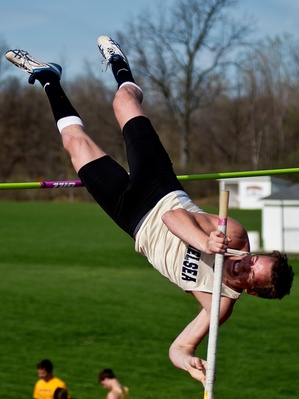 Mike Mulholland | MLive.com file photo
Michael Hovater, Chelsea track and field:
Won the pole vault with a height of 14-feet, nine inches on Saturday at the River Rat Invitational at Huron High School.
According to Athletic.Net
, it is the highest height cleared in Division 2 so far this season and tied for the second highest height in the state across all divisions.
Kayla Boote, Manchester softball: Had eight hits in three games, including three doubles and two home runs and a walk-off home run, in a 9-8 win over Dexter as Manchester won its own invitational over the weekend. Boote had 15 RBIs and scored five runs as the Flying Dutch went 3-0. Boote also had five RBIs in a doubleheader sweep of East Jackson on Thursday.
By the numbers
5: Goals scored by Lincoln lacrosse player Parker Foote in a 14-2 win over Ypsilanti on Friday.
8: Goals scored in three games by Manchester forward Jessie Manders in three games as the Flying Dutch won the Hanover Invitational. Manders also played goalie for the team during a shootout win over Coldwater.
9: Goal scorers for the Pioneer boys lacrosse team in its 14-0 win over Huron on Friday.
12: Strikeouts thrown by Willow Run softball pitcher Candace Calhoun in 12-5 win over Dearborn Heights Robichaud on Friday.
13: Rounds of the shootout between the Manchester and Coldwater girls soccer teams at the Hanover Initational.
15: RBIs for Kayla Boote in three games at the Manchester Invitational. Boote had eight hits including three doubles and two home runs with a walk-off home run in a 9-8 win over Dexter.
Potent quotables
"I think it's going to be a great game. I think it will be a one-goal game."
-- Huron High School girls water polo coach Justin Thoresen the day before Skyline's 7-6 win over Okemos in district play.
Pete Cunningham covers sports for AnnArbor.com. He can be reached at petercunningham@annarbor.com. Follow him on Twitter @petcunningham.