state FINALS:

Huron wins D1 tennis state title; Greenhills wins fourth straight in D4

Posted on Sat, Oct 15, 2011 : 3:48 p.m.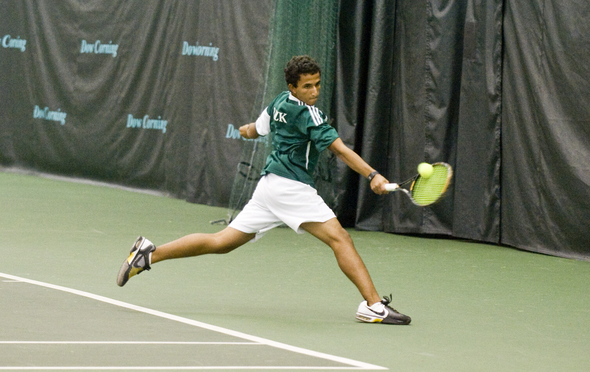 Joseph Tobianski | AnnArbor.com
MIDLAND -- Ann Arbor flexed its tennis muscles Saturday in the MHSAA state championships.
In Division 1 at the Midland Tennis Center, Huron High School used team depth and strong doubles play to capture its first title since 2008 and sixth in school history. In Division 4 at Jenison High School, Greenhills freshman Zach Martell's victory at No. 4 singles led the Gryphons to their fourth consecutive state crown.
"I'm extremely proud of this group, especially our eight seniors, and how they played," said Huron coach Stefan Welch, who also won his second title. "There was some great competition, and going into the weekend, it was up for grabs. I'm happy with how we rose to the challenge."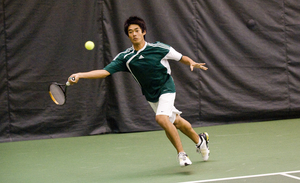 Joseph Tobianski | AnnArbor.com
The River Rats were in a tight battle with Birmingham Brother Rice and Detroit Catholic Central, the previous two state champs. Huron entered the day in first place with 22 points and seven flights remaining, just ahead of Brother Rice (20 points, six flights remaining) and defending champions Catholic Central (18 points, five flights remaining).
Huron advanced players into the finals of six out eight flights and finished with 30 points. Brother Rice finished with 26 and Detroit Catholic Central 24.
The River Rats flight champions were the No. 2 doubles team of Sam Brodkey and Andy Wu, who defeated their Catholic Central opponents in straight sets 7-5, 6-4. The No. 4 team of Ben Brenner and Costa Demetral bested Brother Rice 6-4, 6-3 a victory that Welch said spoke to the depth of his team.
"We had four other alternates that could have potentially played at that spot and we wouldn't have had a drop off," Welch said. "I think that speaks to the depth of this team this team that we can do that and stay dynamic and competitive at each flight." Pioneer finished with 12 points with no one scoring on the second day.
Greenhills entered the second day of the state finals two points off the lead, but with as many flight remaining (five) as the other two contenders, Lansing Catholic Central and Kalamazoo Christian.
After losing two flights in the semifinals, Greenhills needed to win all three of its finals matches to have a chance at first. And they won in tightly contested three-set victories to finish with 23 points. Lansing Catholic Central and Kalamazoo Christian finished tied for second with 22 points.
"It was a very thrilling finish," Greenhills coach Eric Gajar said.
After Sam Markle and Adhi Rajaprabhakaran won the No. 3 doubles title with a 6-3, 3-6, 6-4 victory, the Gryphons were guaranteed at least a share of the title, but Martell's victory gave the Gryphons the title outright.
"(Martell) didn't know," said Gajar, who elected not to tell him the situation and just let Martell play. "So he really thought he needed to win for us to be in contention … it paid off I guess.
"It was definitely hard-earned. We always felt like we were chasing, and the kids never gave up."