Posted on
Fri, Aug 13, 2010 : 1:54 p.m.
Huron's Dante Williams commits to play basketball at Oakland University
By Rich Rezler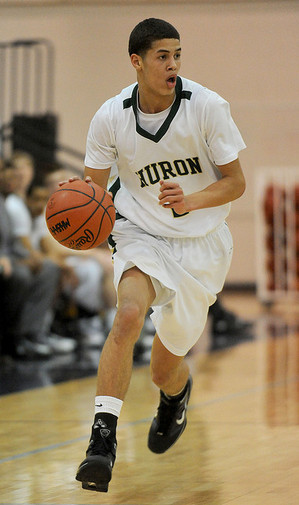 Huron High School senior-to-be Dante Williams has heard from college basketball coaches from coast to coast.
But the 6-foot-6 shooting guard had the same message for anyone stationed outside of driving distance from Ann Arbor. Temple, Providence, Colorado, San Diego State and others all heard it: Thanks for the interest, but no thanks.
Williams wanted to remain close enough to home that his parents, Terri and Wayne Williams, could see him play. Oakland University offered that opportunity, and more, so Williams committed to play for Grizzlies.
"I wanted to be able to have them come to every game," Williams said. "They've seen me play since I started playing basketball. Because of that, I cancelled out some of the schools that called right away."
Of course Williams thinks Oakland offers more than just an easy drive for his parents. He said coach Greg Kampe's drive-and-dish offense fits him well and the Grizzlies are regular Summit League contenders, vying for a spot in the NCAA Tournament.
Plus, in Williams' freshman season, Oakland is already scheduled to play at Kentucky and at Michigan.
"They offer great exposure, we'll play on the biggest stages," Williams said. "I think it was the best decision I could have made."
Williams said he also considered Eastern Michigan, but said the Ypsilanti campus was a little too close to home. While he wanted to be close enough for his family to see him play, he also wanted to be far enough "to become my own man."
Of course if Williams' senior season is anything like the last two games of his junior year, it could have opened up more college opportunities.
Williams was the standout player at the Breslin Center in East Lansing in March, leading Huron with 19 points in a Class A state semifinal win over Michigan-bound Carlton Brundidge and Southfield and 24 more in a state championship loss to Kalamazoo Central, which featured Dayton-bound Devin Oliver.
He shot better than 50 percent (15-for-29) during the two-day tournament, including seven 3-pointers and numerous strong drives to the basket.
"I didn't want to wait," he said. "I wanted to get it off my chest so I only have to think about Huron and winning a state championship."
Huron coach Waleed Samaha thinks Oakland is getting a quality college player.
"At 6-6, Dante presents all kinds of matchup problems. He can shoot from the perimeter or take a smaller guard into the post. Plus, he's excellent passer," Samaha said. "On the defensive end, he can guard four of the five positions. He provides a lot of opportunities in coach Kampe's defensive system.
"The kid's got tremendous upside. He's only going to get better each year." Williams cannot sign a letter of intent until the NCAA's early signing period, Nov. 10-17. Until he signs, Oakland coaches cannot comment on him.