In brief: Local high school players win soccer national championship and more community sports
Posted on Thu, Aug 9, 2012 : 2:32 p.m.
Four Washtenaw County high school soccer players recently won a national championship with their club team, the Michigan Jaguars.

Jason Carmack (Huron High School), Michael Winters (Lincoln), Anthony Pisto (Dexter) and Reid Tennant (Skyline) won the Under-16 boys US Youth Soccer national championship on Sunday July 29 in Rock Hill, S.C. as members of the Novi-based squad. The Jaguars are coached by Ann Arbor resident Barry Scott with a roster that includes players from across the state.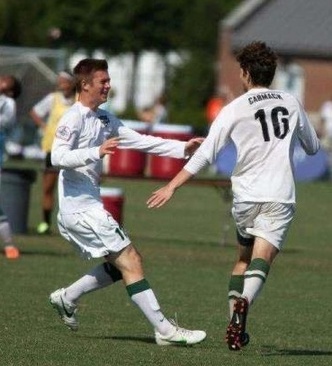 Photo courtesy of Barb Carmack
Clinging to a 1-0 lead in the championship game against South Carolina CESA 95 Premier in the championship game, Carmack scored a goal in the 79th minute to secure the 2-0 win and the national title.
Ann Arbor Travelers eliminated
The Ann Arbor Travelers baseball team had their season end on Wednesday at the Connie Mack World Series in Farmington, N.M. The Travelers lost their second game of the weeklong double elimination tournament to the defending champion Midland Redskins, 6-3.
The Travelers finished tied for fifth in last year's tournament, widely considered the top youth baseball championship in the nation, with a very young squad compared to the rest of the field. With 13 players returning from that team, expectations were high for the Travelers heading into this year's tournament, but the Travelers lost their first game of the tournament, 6-5, and were knocked down to the consolation bracket.
The Travelers won one game in the tournament, 8-2, over the Bayside Yankees.
Hole-in-one
Don Rittenburg, of South Lyon, shot a hole-in-one at Huron Meadows Golf Course in Brighton on Monday. Rittenburg, 55, hit a seven-iron on the 142-yard seventh hole and shot a round of 84.
Rittenburg has golfed for 20 years and it was his first hole-in-one.
To have your community sports news included, email sports@annarbor.com.