Posted on
Sat, May 7, 2011 : 6:05 p.m.
It's raining, it's pouring, spring high school athletes are snoring
By Pete Cunningham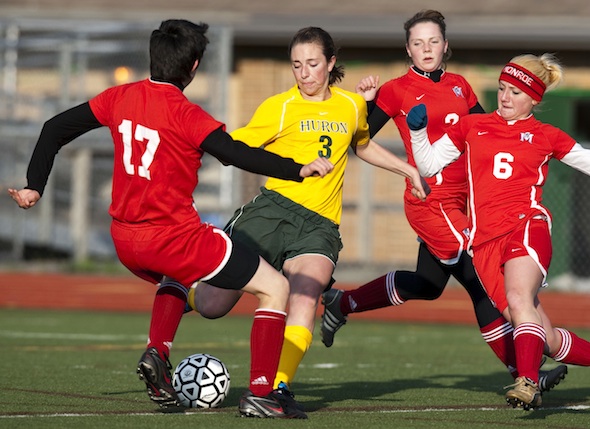 Eric Bronson for AnnArbor.com
Though the expected rain held off, fans at a recent Huron High School girls varsity soccer game were still miserable. They bundled up in winter gear and wrapped themselves tight in blankets.
Hot chocolate -- a "seasonal favorite in Michigan in May," as the public address announcer called it -- was a best seller at the concession stand.
Just two days before, it was 73 degrees and sunny in Ann Arbor. Of course that was on a Sunday. Sundays are the days no high school teams have games, most don't practice and, as luck would have it, seemingly the only days that have been suitable for outdoor sports so far this spring.
By the time the Huron girls had played Monroe to a scoreless tie on Tuesday night, it was 39 degrees.
"It's a little bit less fun to come out and play when it's in conditions like this," said Huron coach Reese Richardson, who has noticed a correlating dip in morale and temperature. "You also see the girls a lot more reluctant to come out and really give it 100 percent because they're layered up. It effects every facet of the game."
Though morale may be low, the mental strain on athletes that the continuously lousy spring weather causes isn't likely to reach the stage of Seasonal Affective Disorder (SAD) -- a mood disorder characterized by depressive symptoms during the winter months -- said University of Massachusetts director of Health Psychology Amy Wachholtz.
"(Student athletes) are less likely to be susceptible than the rest of the population for a couple of reasons, the first thing is that exercise is one of the primary recommended treatments for Seasonal Affective Disorder and being that they are athletes, one would expect they're getting regular exercise," Wachholtz said. "The other piece of that is, even with miserable weather, Seasonal Affective Disorder is strongly associated with light and we did pass the equinox back in mid-March, so the days are getting longer, we are getting exposed to more light."
So athletes' negative moods may be more cranky than clinical. And the same goes for fans and coaches, who are having the enjoyment of watching the games disrupted by unseasonably poor weather, but aren't getting the exercise the athletes are.
"That can be wearing and taxing on parents and family members as well, leading to some frustration or a little bit more irritability," said Wachholts, who jokingly recommended a trip to Florida to cure the ails of the poor weather for fans.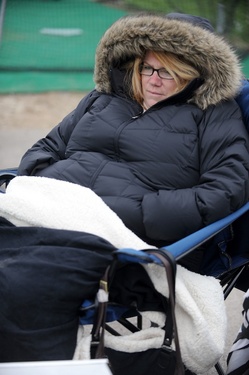 Angela J. Cesere | AnnArbor.com
More realistically, she said athletes reaching out and showing appreciation can go a long way.
Especially if the appreciation is in the form of a hot cup of tea.
Physically, Huron head athletic trainer Tony Whiren said he hasn't seen an increase in injuries that could coincide with tighter muscles in the cold weather. What he has noticed, though, is a general lack of fitness, which he expects to be even more noticeable when temperatures rise.
"Right now, athletes aren't warming up as well because it's cold or it's rainy, and they're running in the gym, then might get outside for a 30-minute practice in the cold and rain," Whiren said.
When temperatures rise and athletes try to push themselves harder and longer, Whiren expects that many will find they're not as prepared as they have been in years past.
"I think we'll see more people tired, fatigued, cheeks will be a little pink," Whiren said. "I think conditioning will be a huge thing. I think hydration will be a huge thing."
Baseball is one of the sports highly susceptible to cancellation in rainy conditions. Saline, for example, played just half of its scheduled games in April and practiced outside sparingly.
"Because of the weather it almost feels like you're on hold, you can't get out there and see what you want to see," said Saline baseball coach Scott Theisen.
Theisen has had extremely deep benches the past three seasons -- each of which ended with Division 1 state final appearances -- but this year his team is comprised largely of players who continue to go untested because of cancellations.
When games are eventually made up, he fears the problems from a lack of depth will be exacerbated, especially on the mound since makeup dates are stacked on top of each other.
"It would have worked in our favor the last three years," Theisen said. "We're not poor, but we're not six or seven deep like we have been."
Theisen doesn't remember a spring this bad in his 18 years of coaching.
"If it's not rain, it's cold, or wind, or all three," Theisen said. "But it's no different than a call you don't like. Can't change it."
The poor spring isn't just Theisen's imagination. According to University of Michigan weather observer Dennis Kahlbaum, this April tied for the third wettest in history for the Ann Arbor area with 6.25 inches of precipitation.
From April 16-29, it rained 12 of 14 days with one of the dry days coming on a Sunday.
Saline boys golf coach Debbie Williams-Hoak noted one positive to the poor weather. She's noticed that high school golf matches are much better received by course owners.
"Golf courses are actually happy with us for a change," said Wiliams-Hoak. "It's normally a bit of a sacrifice for golf courses who are generous enough to donate time for the kids at a fraction of the cost. This year it's helping offset losses because casual golfers are staying away."
Though it may have felt like one of the colder Aprils in memory, the average temperature of 47.6 degrees for the month was just off the average of 48, according to Kahlbaum.
Those numbers are a bit deceiving for high school athletes because some of the nicer days in April have come on Sundays. According to Weather Underground Inc., Sunday, April 10, was the warmest day of the month in the Ann Arbor area with a high of 82 degrees. The mercury rose to 64 on Sunday, April 24, and -- continuing with the trend -- it was 73 on Sunday, May 1, followed by two straight days of bitter cold.
Spring is the shortest high school sports season of the year, spanning a maximum of three months as opposed to four in the fall and four-and-a-half in the winter. Weather often makes that window even shorter for sports susceptible to cancellation and delay, such as baseball, softball and tennis.
In sports like lacrosse, cancellation is a judgment call that Dexter coach Brian Callanan says is no decision at all. He hasn't cancelled so much as a practice this spring.
The former Marine and New York City narcotics cop doesn't do so to breed toughness, but in recognition of the rare opportunity that playing high school sports presents.
"I mean mud is mud. If a kid's a senior and he's never going to play lacrosse again, I'm not going to cancel half his season," Callanan said.
Pete Cunningham covers sports for AnnArbor.com. He can be reached at petercunningham@annarbor.com. Follow him on Twitter @petcunningham.