Posted on
Tue, Jan 29, 2013 : 10:50 p.m.
Jennifer Fichera takes charge down stretch to lead Pioneer to 59-49 win over Skyline
By Kyle Austin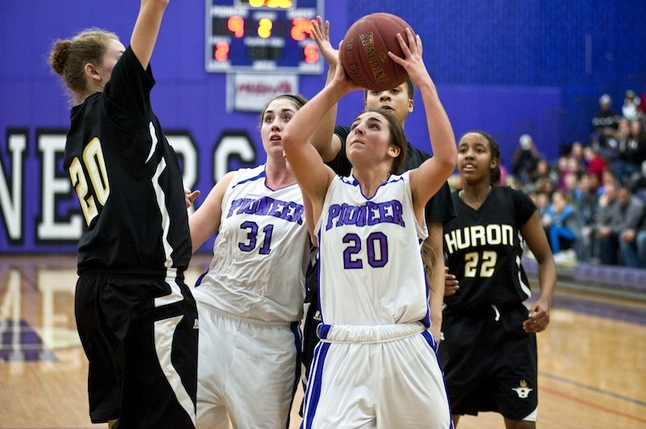 Joseph Tobianski | AnnArbor.com file
Pioneer senior guard Jennifer Fichera started Tuesday's game battling an illness that caused her to miss her team's shootaround earlier in the day.
By halftime, she had four fouls and four points as her team trailed Skyline at home.
But Pioneer coach Crystal Westfield knew she could still count on Fichera when the game was on the line.
Fichera had 11 of her team's 15 points in the final four minutes, 45 seconds, helping Pioneer pull away from Skyline in a 59-49 win Friday night.
More coverage: Boxscore
"For her to come back and play that hard, knowing that she had four fouls...it was going to take guts for us to play hard that last quarter and that last half of a quarter, and Jenny did that for us," Westfield said.
In a back-and-forth game, Skyline (5-9, 0-7 SEC Red) came back from six down early in the fourth to tie the game 44-44 at 4:57 on a Mea Morris jumper.
Fichera was able to get to the free-throw line on the other end, making both, and Pioneer (8-5, 3-4 SEC Red) would never trail again. She went 8-of-9 from the stripe down the stretch and 11-for-13 for the game.
After her free throws, Fichera recorded a steal on the other end, and assisted on a basket by Brianna Worthing to put Pioneer up four. She also grabbed rebounds on three of Pioneer's last four possessions.
"She just does a lot for us, she's multitalented," Westfield said.
Fichera finished with 15 points, while Desiree Cougill had 17 and Worthing had 13.
For Skyline, Morris had 15, Janae Sims had 11 and Anita VanderMuelen had 10.
Fichera's go-ahead free throws came when Pioneer got in the bonus midway through the fourth. That came after Pioneer got into the bonus just five minutes into the first quarter.
The result was Pioneer taking 29 free throws compared to 10 for Skyline. They sank 11 of 12 in the second half and 20 for the game.
"That's probably the difference in the game is the fouling," Westfield said.
Skyline coach Keith Wade was not pleased with foul discrepancy.
"Jenny Fichera didn't play half the game and shot more free throws than our whole team," Wade said.
Skyline's loss was its fifth straight as it stayed winless in the conference. Three of its last five losses have been by 10 points or less.
"It's learning, that's what we touched on in the locker room, it's having that killer instinct down the stretch, that united will to win," Wade said. "Right now we don't have that."
Pioneer led by five early in the second, before Skyline scored 15 points in the final 4:10 of the second quarter to take a one-point lead into halftime.
Skyline's press led to 27 Pioneer turnovers, helping the Eagles stay in the game against a bigger Pioneer team that won the rebounding battle, 34-18.
But in the second half, Pioneer started to heat up from deep, hitting three 3-pointers in the third quarter. After Skyline came back to even things up, it couldn't finish off the road win.
For Wade, the game reminded him of the two teams' first matchup, which Pioneer won 60-59. Then, Pioneer was down by single digits in the final minutes. But this time, the roles were reversed.
"We were exactly where Pioneer was at their place, down four, pretty much the same amount of time, on the road, and Pioneer fought came back and won the game," Wade said. "It's almost like we get the defeatist attitude, like there's no way we can come back."
Kyle Austin covers sports for AnnArbor.com. He can be reached at kyleaustin@annarbor.com or 734-623-2535. Follow him on Twitter @KAustin_AA.