Posted on
Tue, Jan 31, 2012 : 11:10 p.m.
Jimmy Holman 3-pointer lifts Pioneer past Skyline in final seconds
By Jason Idalski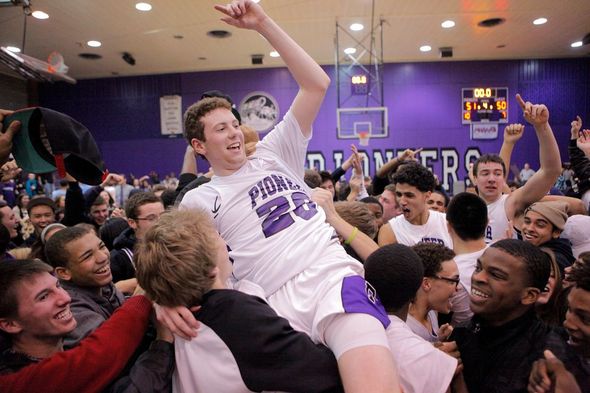 Chris Asadian | AnnArbor.com
As
Jimmy Holman
dribbled up the floor, his Pioneer team down by two and the clock under 15 seconds, he looked at his coach,
Rex Stanczak
, to see if he wanted to call a timeout.
"I just said: 'You know what? That's my three-year point guard,'" Stanczak said of his decision not to call timeout.
Holman proved Stanczak's instincts right, draining a 3-pointer with seven seconds left to give Pioneer a 51-50 win at home over Skyline Tuesday night.
"I was going back-and-forth in my head whether to call timeout," Stanczak said. "He's going to call the same thing I'm going to call. All I'm going to do is mess it up by letting them set up their defense, so we just let him go and he delivered."
More coverage: Boxscore at MLive.com | Photo Gallery | Basketball Roundup
While it may not have been the play he was thinking of, Stanczak was right in knowing his point guard had a plan.
"I knew the play I wanted to call. Sometimes a point guard just has to make plays," Holman said about calling his own number on a quick-hitter that would allow time to foul and perhaps have another chance if it failed. "I hadn't hit a shot all night."
Indeed, Holman had scored just four points up to that point while Ethan Spencer had scored 13. Did Spencer think he might get the ball?
"I knew he was going to shoot it the whole time," Spencer said. "If there's one person in this city that we want to have on our team, to lead us to victory, it's Jimmy. We want him to take that shot."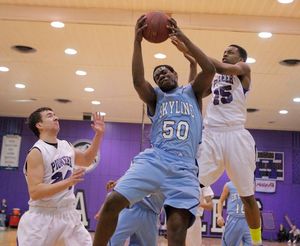 Skyline got an open look at the end. After Skyline's timeout after Holman's shot, and another in the forecourt with 2.2 seconds left, the inbound pass to
Jarrius Mann
found him open eight feet from the basket. There was contact on his arm as his shot hit the back rim and bounced up and off, leaving him to beg for a foul that never came.
Demands over the PA system just moments before for students not to spill onto the floor were futile. The Pioneer students rushed Holman and lifted him atop the mob.
"It was just a great game," Skyline coach Mike Lovelace said. "We were just one point short."
Both teams seemed to have control of the game at times. Pioneer (8-4, 4-1 SEC Red) had four unanswered 3-pointers as part of a 14-0 run in the second quarter and led by as many as eight.
"You never feel comfortable in a rivalry game," Lovelace said. "Never."
Skyline (6-5, 2-3 Red) led by six with seven minutes to go, but went 4-for-12 from the free-throw line in the fourth quarter.
"It was right there," Lovelace said. "We had plenty of opportunities to get up by three or four and couldn't quite capitalize."
When Skyline missed a potentially tying free-throw with 1:49 left, Stanczak ordered his team to hold the ball and wait to get fouled. But after a miss on a drive to the basket, Skyline's Marquis Wesley was fouled on the rebound, making one of two free throws to tie the game 48-48.
Again Stanczak wanted his team to hold for the last shot. But a 3-pointer with 22 seconds left rimmed in-and-out, a shot Stanczak called a good one 99 percent of the time, but not in that situation. Theron Wilson, who had eight points and seven assists, grabbed the rebound and threw an outlet pass to Jordan Woods, who scored the last of his 13 points on a layup with about 15 seconds left, giving Skyline a two-point lead.
"We had a couple guys I got mad at, because we were in layup-only mode," Stanczak said. "Ill-advised drive, ill-advised three."
Meanwhile, his team was having flashbacks to its past two games, a 42-41 loss to Huron and a game where the Pioneers blew an 18-point lead to Temperance Bedford and needed double-overtime to escape.
"Definitely some flashbacks," Spencer said. "We had to finish this one out, it's the biggest game of our season."
Said Holman: "I was like 'Oh jeez, here we go again.'"
You wouldn't have known it from the cool stroke on his winning 3-pointer, though.
Contact Jason Idalski at jasonidalski@annarbor.com.