Live Chat:

Join AnnArbor.com for a live chat during our Game of the Week and more

Posted on Fri, Oct 19, 2012 : 6:30 p.m.
It's last call for wrapping up playoff berths, and we'll be keeping up updated as Washtenaw County's football teams make their final push with our weekly live chat.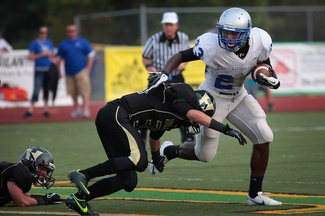 Chris Asadian for AnnArbor.com
Kyle Austin will be at our Game of the Week, Milan at Lincoln, where the Railsplitters will look to wrap up a playoff berth, and the Big Reds will look to wrap up an undefeated season.
Matt Durr will be there when Pioneer looks to secure an automatic playoff berth on the road against Livonia Franklin.
And Pete Cunningham will take the trip to Westland for the Huron's season-finale against Westland John Glenn.
We'll also be pulling in scores from other area games, and chatting with fans about everything on the high school football scene.
Click here to access the chat when games kick off at 7 p.m.
At a different game? Stay up to speed with the MLive.com live chat application for your iPhone or Android mobile device and chime in with updates from the game you're attending.