After year away from high school tennis, Kasey Gardiner looks to cap perfect career at Greenhills
Posted on Wed, May 30, 2012 : 2:06 p.m.
When Greenhills School senior Kasey Gardiner takes the court this weekend at the Division 4 state tennis finals, she'll enter the tournament with a perfect record on the line.
That perfect record is not just for this season, however. It's for her entire high school career.
"I'm trying not to think about it too much. If I start thinking ahead of myself, I'll mess myself up," said Gardiner. "Anything can happen once you get on the court."
The top-rated female singles tennis player in the state, Gardiner has won more than sixty consecutive matches at the high school level and it wasn't until earlier this season that she lost a set (she lost another later in the year ... gasp). Because of her impressive streak, she has become something of a target for other top players.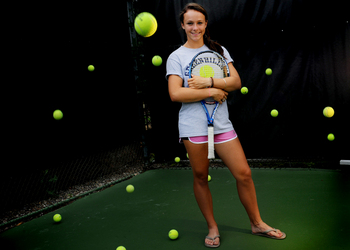 Melanie Maxwell | AnnArbor.com
"There are always those people out there that are out to get you. I definitely liked it and took it in stride," Gardiner said. "It's made my high school season more exciting and more fun."
According to her coach, Mark Randolph, taking the pressure in stride is just part of who Gardiner is.
"It's been wonderful having a player, a student, a person of her caliber here," said Randolph. "She's always tried to do the right thing and do right by her program."
Because of her talent, doing right by the program hasn't always been easy for Gardiner. She skipped her junior season at Greenhills, opting to play in a variety of individual tournaments to help increase her college recruiting status.
"It was definitely tough. I was looking forward to this year so that I could relax and be part of a team," said Gardiner. "I've always loved high school tennis. It's fun and I have a lot of friends on the team."
The time away helped. Gardner was able to secure a scholarship at Wake Forest, where she'll play next fall.
"I went on a visit there and I fell at home right away even though it's so far away from my home," she said. "It reminded me of what I love about Greenhills."
When she returned for her senior season, Randolph had a difficult decision to make. He asked Gardiner to train away from the team because it is too difficult to give the other players the time they deserved while working with Gardiner.
"I try to be as much a part of the team as I can. It's tough not being at practice all the time, but it's almost better for the team," Gardiner said. "I do everything I can to be a part of the time outside of practices."
Gardiner's practices now consist of hitting with her brother, Tyler Gardiner, a highly rated junior who plays for Northville High School. He recently verbally committed to play at Michigan and has been able to help Kasey work on her game.
"We're definitely teammates. We try to help each other out anyway we can. We try to push each other to get better," she said. "We want each other to succeed no matter what position we're in."
Gardiner will need to win four matches Friday and Saturday at the Division 4 state championships hosted by Holland High School to cap her unbeaten career, which started with a state championship at No. 1 singles as a freshman. Her victory helped Greenhills win the team state title, as well.
She was poised to repeat as a sophomore, but was ruled ineligible for the tournament after mistakenly playing in too many non-MHSAA sanctioned matches.
"I learned a lot from it, it made me realize how much I care about high school tennis," Gardiner said. "It was really hard watching my team compete and not being able to help them out."
With the chance at redemption this weekend, Randolph is looking forward to watching Gardiner compete one last time. He is quick to admit, however, that it won't be easy.
"I will always bet on Kasey, but it's not going to be a cakewalk. She's going to have to work for it and that's what is going to make it sweet when she competes for it."
Here is the complete list of local qualifiers for the MHSAA tennis finals:

Division 1
Where: Midland Community Tennis Center
When: Friday and Saturday
Local teams: Huron, Pioneer, Saline
Notable seeds: Saline's Mary Hanna is the top seed in No. 1 singles; Saline's Jennifer Ho (No. 5) and Huron's Lucy Jiang (No. 6) are seeded at No. 2 singles; Huron's Rosa Wu (No. 3) and Saline's Heather Vogt (No. 4) are seeded at No. 3 singles and Huron's Catherine Chou (No. 2) and Saline's Darby Molloy (No. 5) are seeded at No. 4 singles.
Pioneer has the top seed in three of four doubles flights, including Alexa Arvidson and Julia Rampton (No. 1 doubles), Anna Borowicz and Sarah Court (No. 3) and Alyssa Roopas and Evie Van DeWege (No. 4). The Pioneers' No. 2 doubles team of Gina Chou and Allison Fitzpatrick is a No. 4 seed,

Division 3
Where: Holly/Fenton
When: Friday and Saturday
Local team: Chelsea
Notable seeds: Chelsea does not have any seeded players or doubles teams.

Division 4
Where: Holland
When: Friday and Saturday
Local teams: Greenhills, Father Gabriel Richard
Notable seeds: Greenhills' singles players Kasey Gardiner (No. 1 singles) and Collen O'Brien (No. 2 singles) are the top seeds in their respective flights. Corrine Gardner is the No. 2 seed at No. 4 singles. The Gryphons' No. 1 doubles team of Sarah McIntosh and Rae Schueller are seeded No. 3 and the No. 3 doubles team of Emily Chung and Jill Hakim are seeded No. 5.
Father Gabriel Richard's seeded players include Anjali Sood (No. 6 at No. 1 singles), Maddy Szuba (No. 5 at No. 2 singles), Surina Sood (No. 4 at No. 3 singles) and Virgilia Gaska and Anne Covington (No. 4 at No. 3 doubles).