Posted on
Mon, Jun 3, 2013 : 9:49 p.m.
Kristina Zalewski no-hits Monroe as Saline takes district title
By Kyle Austin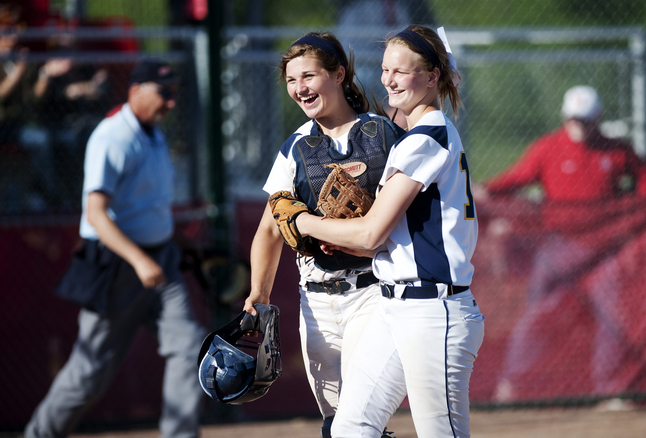 Daniel Brenner | AnnArbor.com
MONROE -- The
Saline
softball team made the trip down to
Monroe
Monday afternoon missing two players absent at college orientations, after their district tournament was postponed from Saturday to Monday.
That meant coach Alicia Seegert had little choice but to pitcher her ace, Kristina Zalewski, exclusively in the two-game tournament.
The Michigan State-bound senior was up to the task.
Zalewski pitched 15 innings on the afternoon, including an eight-inning no hitter in a 2-0 win over Monroe in the district final.
More Coverage: Photo Gallery | Boxscore | Bracket
"Phenomenal today, and the scary thing is she hasn't peaked yet this year," Seegert said of Zalewski. "We're still working on a few placements, but it was what she needed today."
With the win, Saline (31-2) advances to play in the regional tournament at home Saturday. It will face Southgate Anderson in the first semifinal at 10 a.m.
Zalewski gave up five hits and two runs in her team's 11-2 semifinal game against Lincoln, but she was lights out in the final, giving up only two walks for the game.
"I think I tried harder I guess," Zalewski said. "It was more exciting so I think that definitely had an effect.
The Hornets scored the first run of the game in the top of the eighth when Laura Vaccaro hit a ground ball with bases loaded to the pitcher. The Trojans got the force out at home, but when Trojans catcher Kyla Smith threw down to try to get Vaccaro at first, Saline's Kaylee Harmon was able to come around and score.
"We just kept the runner going and we just got fortunate," Seegert said. "She got around on a nice slide."
Daniel Brenner | AnnArbor.com
The next hitter,
Katie Alexander
hit an RBI single to give the Hornets their second run.
That was all Saline would need, as Zalewski finished the game with a groundout and a pair of strikeouts to finish the game with nine for the game.
Saline was in a similarly close game last year in their district opener against Temperance Bedford, but lost on a few defensive miscues. Seegert said her team was more aggressive on defense their second time out.
"You could see, they were not holding back on anything," Seegert said.
And the Hornet players didn't want to have the season end in the same fashion it did last year.
"We wanted it more this year and we were more willing to give it our all," Zalewski said. "And we all worked together and cheered each other on."
Zalewski didn't have the only gutsy performance on the day. Playing second base, Saline's Alyssa Heren was hit in the face with a ball that was bunted and ricocheted off the runner.
"She's going to get stitches right now," Seegert said. "She's a tough kid."
After facing a tough SEC opponent that handed Saline one of its two losses on the year, the Hornets now move on with their first district title since 2010.
"We're going to keep working as a team and hopefully win as much as we can," Zalewski said.
Kyle Austin covers sports for AnnArbor.com. He can be reached at kyleaustin@annarbor.com or 734-623-2535. Follow him on Twitter @KAustin_AA.