Posted on
Sat, Aug 31, 2013 : 2:03 a.m.
Lightning pushes Chelsea football opener past midnight, stalls comeback
By Rich Rezler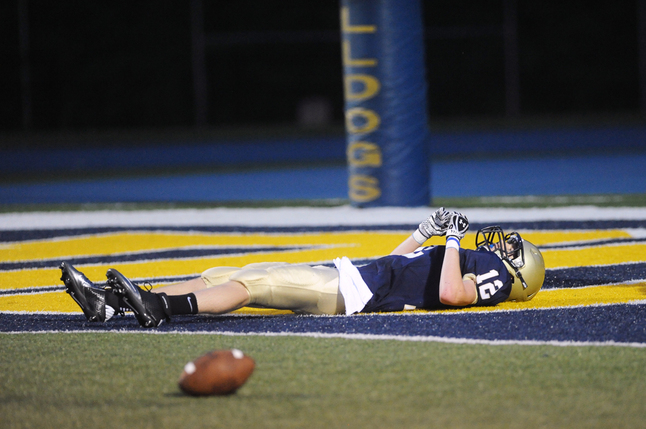 Brianne Bowen | AnnArbor.com
The
Chelsea High School
football team weathered one storm early Friday night at the hands of Lansing Sexton, but a second one from Mother Nature halted a possible comeback.
A nearly three-hour weather delay hindered the Bulldogs' chances of a comeback against visiting Big Reds.
When Sexton wrapped up a season-opening 21-14 win shortly after midnight, roughly 100 die-hard Chelsea students and parents remained to witness it, a fraction of the typical community gathering that showed up at Jerry Niehaus Field more than five hours earlier.
More coverage: Boxscore | Photo Gallery | Football roundup
Also gone was Chelsea's plan to capitalize on its depth in the fourth quarter.
"If you had seen our board, that's what we talked about all week, get to the fourth quarter because they had more guys going both ways," said Chelsea coach Brad Bush, noting his team had run 60 offensive plays to Sexton's 36 before the weather delay. "Because we had run so many plays and our defense had been sitting on the sideline, we felt pretty good about it.
"When the lightning came, we thought the tide was turning a little bit."
The first lightning was spotted by the officiating crew at 9:02 p.m., with Chelsea trailing 15-7 with 8:46 left to play. Continuous strikes kept pushing back the 30-minute, MHSAA-mandated delay. Because Sexton faced a 120-mile round-trip back to Chelsea to complete the game, coaches and officials decided to wait out the lightning.
The teams returned to the field for a 15-minute warmup at 11:32 p.m.
"For (Sexton) to go back to Lansing and have to flip it around (Saturday) - and you need officials, and it's Labor Day weekend - I think (Sexton coach Daniel Boggan) and I both felt the right thing to do was to try to finish the game," Bush said.
"The officials were willing to wait it out. If it was halftime or something we probably would have (postponed the game). But with 8 minutes left, that would have been tough."
It became clear almost immediately upon restarting the game that Sexton's players were rested and ready to play.
Back-to-back sacks of Chelsea quarterback Steve Crews left the Bulldogs punting from their own 2-yard-line. Sexton capitalized on the short field position in just two plays, when Ja'Von Wray scored on a 21-yard touchdown for a 21-7 lead with 6:01 to play.
That quick strike was similar to how the game started five hours earlier, when Sexton led 15-0 after just four minutes of play.
Javon Cooney ran past the Chelsea secondary and quarterback Malik Mack hit him down the sideline for an 88-yard touchdown pass on the first play of the game. After Chelsea moved backward 11 yards on its first possession -- thanks to a false start and a botched shotgun snap -- Avonte Bell returned a punt 46 yards to Chelsea's 17, setting up a 13-yard Mack to Cooney touchdown pass two plays later.
Bell busted loose for a 71-yard run on Sexton's third possession, but Chelsea's defense stiffened. They stopped the Big Reds on downs and held them scoreless from that point.
"(Sexton) is a really good team and we're a really young team and they jumped on us right away, which was probably my biggest concern," Bush said. "After that we settled in and played."
Chelsea made one final push late in the game, scoring on a 7-yard Crews-to-Christian Clippert pass with 3:26 remaining. Dominic Triveline's second PAT cut the Sexton lead to 21-14.
The Bulldogs failed to recover an onside kick, but did force a Sexton punt with 20 seconds remaining. Any chance of a miracle finish disappeared when Chelsea was penalized for running into the kicker.
Crews, who scored on an 11-yard run late in the first half, completed the first nine passes of his first varsity start and finished 17-of-30 for 151 yards. Junior tailback Ty Nelson rushed 20 times for 62 yards. He's taking over the position formerly held by current Big Ten backs Nick Hill (Michigan State) and Berkley Edwards (Minnesota).
Rich Rezler is a freelance journalist for AnnArbor.com.