Posted on
Tue, Dec 11, 2012 : 10:01 p.m.
Lincoln boys score big home win over Huron and more Tuesday night boys basketball results
By Matt Durr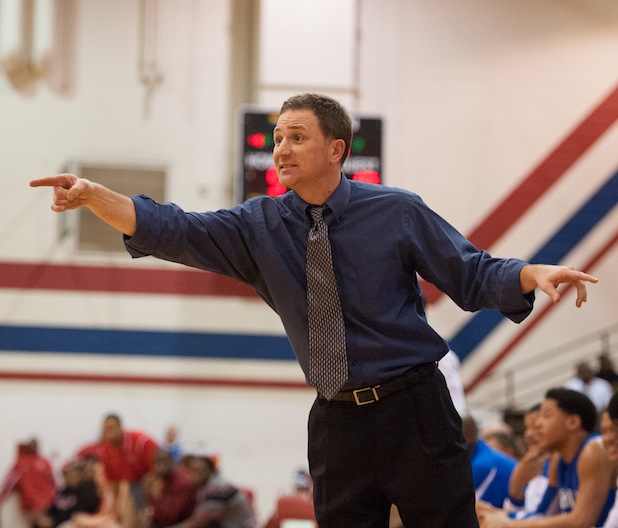 Courtney Sacco | Annarbor.com
This file will be updated
Ypsilanti Lincoln improved to 3-0 overall by working around Ann Arbor Huron's full-court game.
"Huron runs a full-court press," Lincoln coach Rich Marion said. "Huron tied it with a three with a couple minutes left, but from there we settled down. We worked the ball around the press with good passing."
More coverage: Story | Boxscore
Ann Arbor Huron (0-1) jumped out to an 11-7 lead but Lincoln turned the tables with an 18-11 advantage in the second quarter.
"Huron jumped out on us pretty good. They had an 11-3 first-quarter lead at one point," Marion said. "Their pressure is so tough to duplicate in practice that we kind of had a deer in headlights look early. Once we got a feel for it we settled down."
Annarbor.com Washtenaw County scoreboard:
Salem 49, Skyline 47
Story | Boxscore
Travonn Banks led Ann Arbor Skyline with 14 points, while Peter Bakker-Arkema and Tristan Wilson added eight apiece. But the Eagles lost on a buzzer-beater to open their season.
"We got off to a really slow start and just kept chipping away and chipping away," said Skyline coach Mike Lovelace, whose team fell to 0-1. "Our offense was real rusty, but we fought back the rest of the way. It was exciting down the stretch.
"Banks had a nice game. He got fouled with 25 seconds left and made both free throws to tie at 47-47."
Southgate Anderson 65, Saline 63 (2OT)
Story | Boxscore
Tied 51-all to end regulation, Southgate Anderson outscored Saline 14-12 in two overtimes to grab the win. The Hornets are now 2-1 this season.
Reece Dils led Saline with 22 points, followed by Caleb Luckett, 15 and Michael Hendrickson, 14.
"We had an opportunity to win it in regulation and missed the shot and had a chance to win it the first and second overtime," said Saline coach Eric Williams,
South Lyon 50, Dexter 30
Story | Boxscore
Carter Drazga led South Lyon with 11 points scored, and Connor Wildman scored eight.
Dexter's London Truman and Kyle VanDusen both scored five points, respectively.
"South Lyon played great pressure defense, and forced us into 24 turnovers," Dexter coach Randy Swoverland said.
Dexter is now 1-3 on the season
Gabriel Richard 88, Detroit Old Redford 67
Story | Boxscore
Ann Arbor Gabriel Richard (2-0) opened up the game with a quick tempo, outscoring Detroit Old Redford 21-7 in the first quarter.
Jason Houle led Gabriel Richard, scoring a game-high 34 points, five three pointers, 10 rebounds, and went 9-for-9 at the line.
"(Houle) scored 27 in our first game," Gabriel Richard coach Pete Schoch said. "His teammates set him up very well. He is very active and he earned his buckets. This was also a much bigger rebound total for him."
Greenhills 50, Detroit Henry Ford ASCS 38
Story | Boxscore
Ann Arbor Greenhills used a strong first quarter to pull ahead for the win and improved its record to 2-1 this season.
Andikan Archibong led Greenhills with 11 points, followed by Sean Pakasawa and Emmet Kulka with eight apiece.
De'Angelo Williams led Henry Ford Academy with 11 points.
Greenhills led 13-6 to end the first quarter and 39-27 heading into the fourth.
Washtenaw Christian 53, Howell AACH 43
Story | Boxscore
Washtenaw Christian exploded for 39 of its 53 points after halftime, downing Howell Athletic Association of Christian Athletes, 53-43 Tuesday night at home.
Mathias Domat led Saline Washenaw with 24 points, including nine in the fourth quarter to help seal the game
The Wildcats imprvoved to 2-1 on the season.
Adrian Madison 62, Whitmore Lake 47
Details not available. Whitmore Lake falls to 0-3 on the season.