Posted on
Thu, Aug 15, 2013 : 5:45 a.m.
Lincoln football determined to return to playoffs after falling one point short in 2012
By Pete Cunningham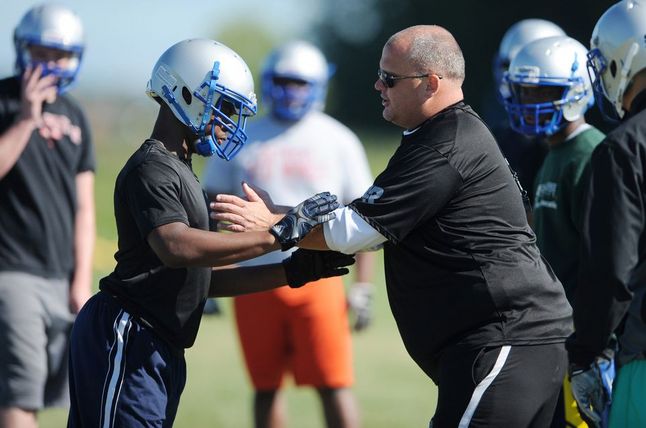 Melanie Maxwell | AnnArbor.com
The Lincoln High School football team came within one point of following the program's only-ever playoff appearance with a return trip last season.
Though the 26-25 loss to Adrian on a wet, sloppy October night in Week 7 has been in the rearview mirror for more than 10 months, it still feels like yesterday for Lincoln coach Chris Westfall and his players.
"The one in Adrian burns," Westfall said at practice on Wednesday. "We turned it over like six times, it was a crappy night, that's the one that burns."
"We felt like we should have had that game, we felt like we were the better team and so after that loss, I feel like it was a big letdown for the team," said senior linebacker E.J. Shaah.
Lincoln finished the season 5-4. Before 2011, Lincoln finishing with a winning record qualified as a minor miracle, but after the success of 2011 - a 6-4 record and the team's first-ever trip to the playoffs - expectations are now higher.
While the bar has been raised, Westfall still saw last year as progress, even with the setback against Adrian.
"We just lost one game we shouldn't have, to be honest," Westfall said. "Milan was a better team than we were, they pushed us around, Chelsea with (University of Minnesota freshman) Berkley (Edwards) in the second half pushed us around and Tecumseh, the quarterback (Ben Dreslinski) executed fantastically.
"So three times people played better than us. It's just that one loss where we feel we should have won."
Shaah said he's not so much worried about setbacks for the upcoming season. No team is perfect, and not every break is going to go your way. What he's more concerned about is how his team deals with inevitable adversity.
"We gave up at the end of the season and I think that's something that, as leaders, we can't let that happen again," Shaah said. "We have to keep pushing no matter what happens."
Pete Cunningham covers sports for AnnArbor.com. He can be reached at petercunningham@annarbor.com. Follow him on Twitter @petcunningham.