high school football:

Lincoln beats Huron to improve to 2-0 for first time since 1998

Posted on Sat, Sep 3, 2011 : 12:50 a.m.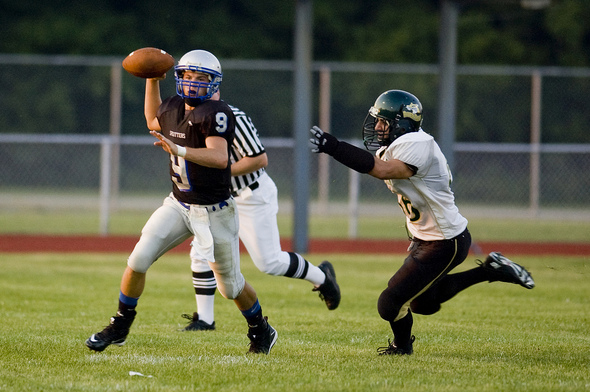 Joseph Tobianski | AnnArbor.com
The Lincoln High School football team's fans showed up in force for a pep rally at 6 a.m. on Friday to show their support for the Railsplitters.
More than 15 hours later, the home-side bleachers were whipped into a similar frenzy as Lincoln walked off the field following a 21-10 victory over Huron. The Railsplitters did something no Lincoln team has done since 1998: improve to 2-0.
More coverage: Boxscore | Photo slideshow | Friday night roundup
Lincoln was led by quarterback T.J. O'Bryan, who was 6 of 13 passing for 108 yards and rushed for 28 yards and two touchdowns. All of O'Bryan's completions were to Rare' Williams.
Joseph Tobianski | AnnArbor.com
While Lincoln coach
Chris Westfall
was happy to get the win, he thought there was room for improvement.
"It's a satisfying win; it's not a good win. We didn't play well," Westfall said. "I'm glad that we're gritty and tough and we fought back from some adversity."
One key play that showed that grit came with the Railsplitters protecting a 14-10 lead late in the third quarter. Huron running back Parish Jacobs broke free for an 85-yard run, setting up for a 1st-and-goal from the Lincoln 10. The Railsplitters recovered a fumble on the next play and responded with a seven minute scoring drive to go up 21-10 with 5:05 remaining in the game.
Jacobs finished with 135 yards and a touchdown, but barely had the opportunity to touch the ball in the fourth quarter.
"I think our offense ran 10 plays in the second half total," Huron caoch Cory Gildersleeve said.
A rash of inopportune penalties and a controversial call hurt the 0-2 River Rats.
"Every crucial moment of the game where we were starting to pick up some momentum, the kids just kind of got crushed, you know?" Gildersleeve said. "It's the little things that make the difference between a 3-6 team and a 6-3 team."
On Lincoln's lead-extending drive in the fourth quarter, Huron forced a 4th-and-6, but jumped offside. On the next play, Lincoln converted to keep the clock running. After stopping Lincoln again, Huron forced a punt but was called for a roughing the kicker penalty; a penalty that Gildersleeve didn't agree with.
On the snap, punter Corey Gray let the ball hit the ground and had to run toward the sidelines to avoid being tackled. As he got free, he kicked the ball away and was hit. The officials threw a flag and an automatic first down was given to Lincoln.
"It's a judgment call, the official came over and we had a conversation and I'll just leave it at that," Gildersleeve said.
Westfall though the right call was made.
"The high school rules are: Once he goes into the kicking motion you can't hit him. The ball wasn't blocked, so he's protected as a kicker once he's in the kicking motion," Westfall said. "I think it was the right call."
George Miller led Lincoln in rushing with 22 carries for 90 yards and a score.