Posted on
Sat, Feb 18, 2012 : 9:32 p.m.
Two wrestlers from Lincoln, one from Saline qualify for state finals
By Matt Durr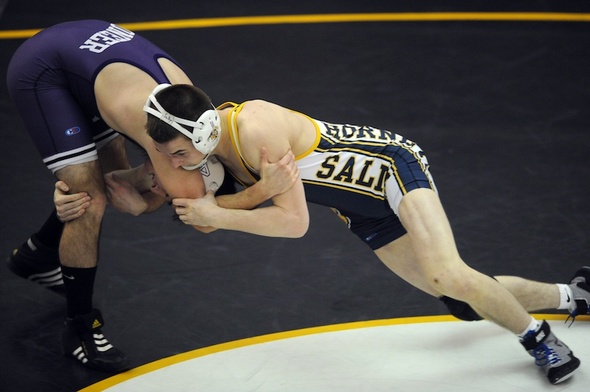 AnnArbor.com file photo
Ed Nuttall
was five seconds away from seeing his high school wrestling career come to an end.
Trailing Detroit Catholic Central's Logan Marcicki -- a defending state champion at 130 lbs. -- 8-7 with almost no time remaining, the Lincoln High School senior escaped Marcicki's grip to score a single point and force an overtime period in a 145-pound match at Saturday's MHSAA individual regional tournament.
Riding the wave of momentum, Nuttall needed only 15 seconds to secure a takedown and a 10-8 decision, sending him to the consolation round and bringing the crowd inside of Saline High School's gymnasium to its feet.
"That was the most exciting match of my career," Nuttall said. "I was just trying to get an escape and tie the match."
Nuttall finished in third place in his class by beating Arfan Khathem of Dearborn with a 7-5 decision in his first match of the day. Nuttall and Khathem would square off in the consolation match, where Nuttall won by injury forfeit. Nuttall lost to Zach Marsh of Canton in his second match by a 3-2 decision.
After securing the win over Marcicki, Lincoln coach Mike Betts jumped into the arms of one of his assistants before wrapping his arms around Nuttall.
MLive.com: Results
"I showed the emotion because he is a senior. I knew he had it, I think he was a little leery of (Marcicki) at first, we knew he was going to come hard," Betts said. "But I just got to give it up to Eddie, he just works hard for me."
The emotion would continue when Lincoln's Jordan Markey advanced to the consolation round at 119 pounds after pinning Salem's Cody Korpus at the 4:49 mark. Markey won his first match by decision, 16-15 against Dearborn Fordson's Imad Soukar. However, Markey dropped his second match to Temperance Bedford's Mitch Pawlak 8-4.
Having already secured in spot in states, Markey still had to face Cade Barwig from Wyandotte Roseville. Barwig proved to be too much for Markey who lost by major decision, 14-5, to finish fourth in his class.
Wrestling in his home building, Saline's Nate O'Sullivan took third place at 130 pounds after knocking off Westland John Glenn's Jesse Oneal by major decision, 8-0. O'Sullivan reached the consolation round by narrowly defeating Woodhaven's Tito Sanchez, 2-0.
O'Sullivan won his first match of the day by a 2-1 decision over Jon Conn of Plymouth, but was pinned in his second match at the 1:22 mark by Catholic Central's Ken Bade.
For as much joy and happiness felt by the wrestlers that advanced, there was an equal amount of heartbreak for those who had their season's end.
In the 125 class, Saline's Ryan Boxeth was defeated 9-2 in his first match by Detroit Catholic Central's T.J. Fagan. In his win-or-go-home match against Southgate Anderson's Raven Schmitt, Boxeth entered the final two minutes with a 5-2 advantage. However at the 4:20 mark of the match, Schmitt stunned Boxeth and pinned him.
After the match, the senior was visibly upset.
"Ryan's been a leader on this team and even in his loss he didn't stop leading his teammates," said Saline coach Scott Powers. "He's a high-character individual and he'll do great things in college."
Boxeth's teammates Dustin Funk(135) and Alex Cornelius (140) also lost both of their opening matches. Funk fell to Alec Pantaleo of Canton, 17-2, and Kody Roy of Livonia Stevenson, 7-1. Cornelius was defeated 13-3 by Livonia Franklin's Jordan Atienza in the first round before losing a close match to Bedford's Al Regnier, 4-2.
Although only one qualified for the state tournament, Powers applauded the effort of his wrestlers.
"The effort today was tremendous. They wrestled harder today than they have all year," Powers said. "This is the hardest region in the state to get out of, bar none."
For those that did advance, the individual finals will be held from March 1-3 at The Palace of Auburn Hills.
By advancing two of its wrestlers to states, Betts thinks the Lincoln program is starting to turn a corner.
"I've been here for three years at Ypsi Lincoln, we're starting to get a program. It's really starting to come along," he said. "I'm excited for the program, this is what we need."
MORE REGIONAL RESULTS
In addition to the three state qualifiers from the Division 1 district at Saline, 15 more wrestlers will represent Washtenaw County at the MHSAA wrestling state finals March 1-3 at the Palace of Auburn Hills. Below are results from Saturday's regional tournaments:
Division 2 at Mason: Dexter's Drew Barnes wins regional title with first period pin. Chelsea and Dexter qualify three, Ypsilanti two. (Story | Results)
Division 2 at Tecumseh: Milan's Chris Gaskill takes second place at 160 to advance. (Story | Results)
Division 4 at Memphis: Six Manchester wrestlers advance to state finals. (Story | Results )
Contact Matt Durr at mattdurr@annarbor.com.