Posted on
Fri, Aug 30, 2013 : 5:45 a.m.
Lincoln starts quest for playoff return with season-opener against Belleville
By Kyle Austin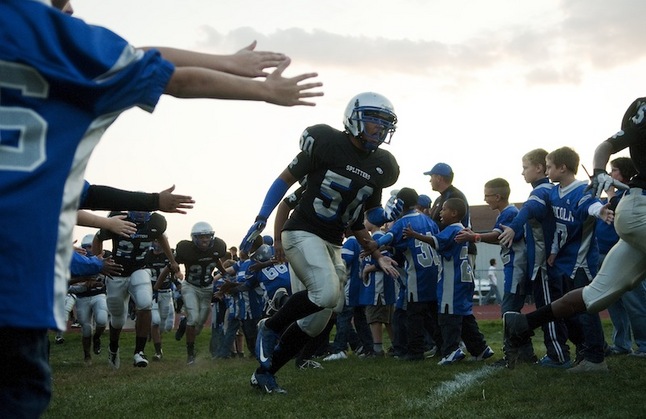 Daniel Brenner | AnnArbor.com file
The last two seasons have shown the Lincoln football team the thin line between agony and ecstasy.
Two years ago, a 6-3 regular season at Lincoln was a milestone and cause for celebration. The Railsplitters qualified for the playoffs for the first time in school history following a winless campaign the year before. Former Railsplitters' standout Tyree Waller called it "mind-blowing."
Last year, one more loss by one point meant a 5-4 regular season - the Railsplitters fell 26-25 on a rainy night in Adrian. Lincoln missed the playoffs, as they had every year before 2011.
"They felt disappointed last year by missing it at 5-4," Lincoln coach Chris Westfall said. "And losing by a point down in Adrian was the one that they all point at, that we point at."
Now, with several key players back in 2013 and deep numbers, Lincoln looks to get back to postseason football in 2013. That campaign starts Friday night, 7 p.m. at Lincoln with the team's opener against Belleville.
The Railsplitters graduated their quarterback, Javin Kilgo, and top receiver and return man Waller, who is now at Central Michigan.
But they sport plenty of experience coming back to the offensive line, including returning all-league left tackle Devin McCallister.
"That's the reason that we're OK with so many young kids is we have a senior at left tackle, a senior at left guard, a senior at center," Westfall said.
Behind that offensive line will be a new quarterback in junior Eugene Smith, who will have three junior wide receivers to target -- Tyler Mabry, Lazon Hicks and KJ Osborn -- who all stand 6-foot-3 or taller.
And on defense, linebacker E.J. Shaah cornerback and defensive back Dalauren Roberson will lead a group that, unlike some teams, can focus mostly on defense.
"We don't play many guys both ways," Westfall said.
Belleville has also been on the cusp of the playoffs, with a pair of 5-4 campaigns in the last three years. The Tigers return a senior quarterback in Drew Letwinski, but are in the process of replacing several key players on the line.
While advancing to the playoffs is near the top of any team's to-do list, Westfall and his squad have another item on theirs: winning a league title, something Lincoln hasn't done since 1987.
In 2011, Lincoln went 4-1 in SEC White play, but fell to perennial league powerhouse Chelsea. Last year, the Railsplitters completed a 3-0 non-league slate to start the year, but fell to Adrian, Chelsea and Tecumseh in league play.
"That's a big goal for me," Westfall said of a league title. "If we can break through and win the SEC when there's Chelsea and Adrian and Tecumseh, that would be a huge accomplishment too. That's big for us."
Kyle Austin covers sports for AnnArbor.com. He can be reached at kyleaustin@annarbor.com or 734-623-2535. Follow him on Twitter @KAustin_AA.