Posted on
Thu, Dec 15, 2011 : 10:51 p.m.
Skyline wins home opener behind Theron Wilson's big fourth quarter
By Matt Durr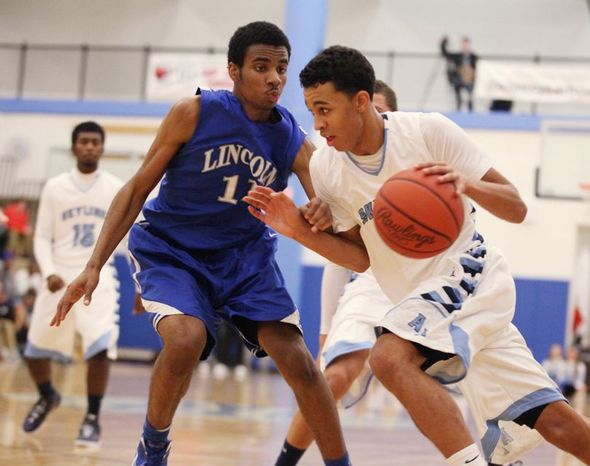 Jeff Sainlar | AnnArbor.com
Theron Wilson saved his best for when it mattered most, scoring 11 of his team-high 16 points in the fourth quarter of Skyline's 54-51 victory over Lincoln Thursday night.
"I told myself I would step it up and try to lead my team to a win," Wilson said after the game. "But this was a team win."
Trailing 43-40 entering the fourth, Wilson knocked down a pair of 3-pointers early to give his team a lead and fire up the Skyline faithful.
More coverage at MLive.com: Boxscore | Photo Gallery | Thursday basketball roundup
"It was hype to hear our crowd (get excited). The crowd got the whole team going," said Wilson, who had four rebounds and three steals to go along with his 16 points.
With just over a minute to play, Skyline's Jack Clark knocked down two free throws to give his team a 53-50 lead. Clark had 12 points on the night and was 8-of-10 from the stripe. With five seconds left, Wilson missed two free throws and gave Lincoln a chance to tie, but a hustle play by Skyline tipped the ball away, and the clock expired before Lincoln had a chance at a game-tying shot.
The Eagles (2-0, 1-0 SEC) were relieved to pull out the victory after squandering an early lead in the Southeastern Conference crossover. Up 20-11 with seven minutes left in the first half, Skyline saw that lead disappear after Lincoln went on a 14-4 run. Lincoln led 36-32 at halftime.
"I felt like we were a little out of control," said Skyline head coach Mike Lovelace about his team's second quarter. "We can't get pushed around and let them beat us up like that."
The Railsplitters (1-2, 0-1 SEC) would take the lead into the half 36-32, thanks in large part to lack of composure from Skyline's Jordan Woods.
After picking up his third foul late in the second quarter, Woods sprinted down court, showing his displeasure with the call. He was given a technical foul, making it his fourth foul.
Lincoln was in the double bonus, giving the Railsplitters four free throws and possession of the ball. Dalauren Roberson made all four shots and Lincoln scored on the possession after the free throws.
Because of the foul trouble, Woods would not see any action until late in the game.
"We had to try and save him for the fourth," said Lovelace.
Skyline changed up its defensive look in the second half and gave the Railsplitters a variety of looks, which seemed to confuse Lincoln.
"We just focused on not getting beat off the dribble," said Lovelace.
Using a combination of press, zone and man defenses, Skyline held Lincoln to just 15 points in the second half.
Not all of the Railsplitter's struggles were because of defense, as Lincoln had its own foul troubles. DeMarqus Washington was forced to sit and watch after picking up his fourth foul (a technical for hanging on the rim). When he re-entered the game he was not the same player that dominated the first half.
Washington had 13 points and six rebounds in the first half, but only managed to finish the game with 16 points and seven rebounds.
The boisterous crowd taunted Washington and his teammates all game long with chants of "you can't do that," whenever a mistake was made by Lincoln. Lovelace thought that his players fed off the emotion of the crowd and that going forward, the fans can help make Skyline a difficult place to play.
"It's great to see such a large turnout," Lovelace said. "It definitely helped out tonight."
Matt Durr covers sports for AnnArbor.com. He can be reached at mattdurr@annarbor.com.