high school football:

Tecumseh beats Lincoln 41-14 in battle of undefeated SEC White teams

Posted on Fri, Sep 14, 2012 : 11:16 p.m.
Courtney Sacco | AnnArbor.com
by Phil Lozen
In a game that featured a pair of football teams trying to get to 4-0 for the first time in more than than a decade, Tecumseh used a 21-point third quarter barrage to top Ypsilanti Lincoln 41-14 in the Railsplitters home opener on Friday.
The game turned in a four-minute stretch to open the third quarter.
Tecumseh was up 20-7 at the half, but Lincoln had stolen some momentum after Jon Applewhite's electrifying 90-yard kickoff return for a touchdown with under a minute to play before the break.
More coverage: Boxscore at MLive.com | Photo Gallery | Football roundup
Lincoln (3-1, 0-1 SEC White), which received the second half kickoff, faced a fourth and one at its own 35. The Railsplitters went for it and were stopped short, giving Tecumseh excellent field position.
The Indians (4-0, 1-0) then looked to quarterback Ben Dreslinski and the senior signal caller delivered. Dreslinski deftly moved the Indians 33 yards in just four plays, culminating in a 26-yard scoring strike to Spencer Adams.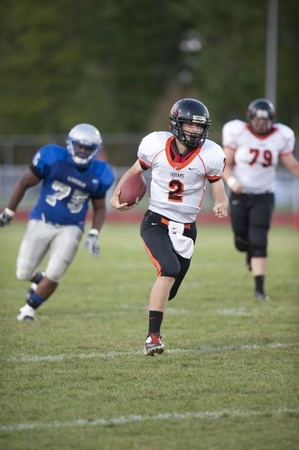 Courtney Sacco | AnnArbor.com
On the ensuing kickoff, Tecumseh's squib kick deflected off a Lincoln player and was recovered by the Indian's Stephen Bloxam at the Lincoln 48, one of seven Tecumseh drives that started in Railsplitters territory.
Just over two minutes later Dreslinski hit Eric Eldred on the goal line and Eldred spun into the end zone turning what could have been a one possession game into a 34-7 lead.
"We had struggled to stop them, and we were trying to score and make it a one score game," Lincoln coach Chris Westfall said of the fourth-and-one decision. "They stopped us on fourth-and-one. That's a decision, you take a shot, and this time we missed."
Lincoln scored its only offensive touchdown on its next drive when Javin Kilgo found Tyree Waller in the seam for a 58-yard touchdown pass.
But Dreslinski answered again, this time moving Tecumseh 72 yards in four minutes and scoring himself on a 21-yard scamper off a broken play with 27 seconds left in the third quarter. Dreslinski finished the game completing 18-of-21 passes for 218 yards and four touchdowns. He also ran for a score.
Lincoln's next two possessions ended in turnovers, and Tecumseh ate up five minutes of clock in the fourth to put the game away.
"They had a fantastic plan on offense. The quick passing game took our pressure away," Chris Westfall said. "We're a multiple team (on defense), we try a lot of different things and they took that away with quickness and precision."
Westfall also praised Tecumseh's kicking game, which kept the Railsplitters backed up throughout the game. Where Tecumseh started the majority of their drives inside Lincoln territory, the Railsplitters best starting field position was their own 40, and seven of their 11 drives started inside their own 30.
Troy Brumfield led Lincoln with 73 yards rushing. Kilgo completed 12-of-23 passes for 149 yards with a touchdown and two interceptions. Waller had five catches for 94 yards.

Game of the Week
Vote for next week's game of the week.