Posted on
Thu, Jan 19, 2012 : 11:11 p.m.
Ypsilanti scores big win over rival Lincoln
By Matt Durr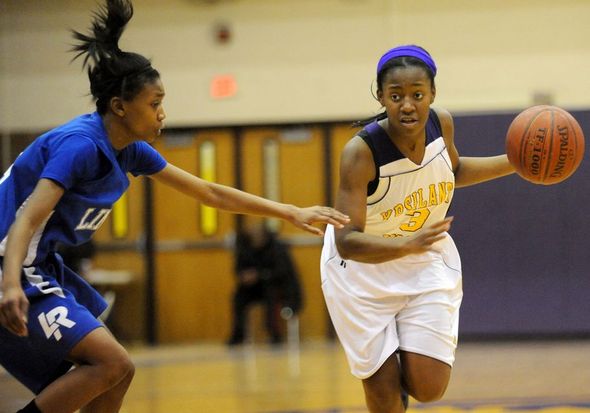 Angela J. Cesere | AnnArbor.com
Ypsilanti head coach
Chris Slater
wasn't happy with the way his team performed in the first half of the season earning a 1-8 record and so, he challenged his team to step up.
The Phoenix responded by knocking off intracity rival Lincoln, 43-31 on Thursday.
"We've been talking about staying proud," said Slater. "We've been getting pushed around a bit; it's time to come back."
More coverage: Boxscore at MLive.com | Photo Gallery | Thursday basketball roundup
Cara Easley scored a game-high 13 points -- matching her season's best -- and pulled down 15 rebounds to lead the Phoenix who never trailed after the three-minute mark of the first quarter.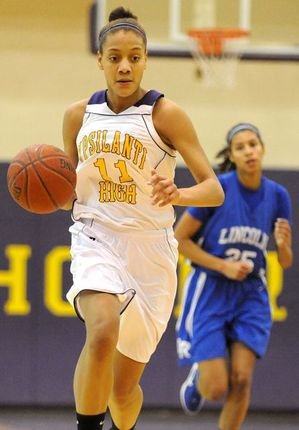 Angela J. Cesere | AnnArbor.com
"Easley is a great player and tonight she showed her potential, today she mixed it up," Slater said. "That's what we need from her."
Trailing 20-14 at the half, Lincoln (7-3, 3-1 SEC White) was able to cut the lead to three twice, but could never carry the momentum long enough to regain the lead.
"We struggled putting it in the hole," said Lincoln head coach Mike Hotchkiss, who added his team was too passive on offense throughout the night.
With just over two minutes left in the third quarter, Lincoln trailed 26-23 but the Phoenix went on a 6-0 run to stretch the lead to 32-23.
Led by Dominique Foley, the Railsplitters would respond with a 6-0 run of their own in the fourth quarter to make it a 32-29 with 4:40 left in the game. Foley would finish the game with eight points.
Recognizing his team was struggling, Slater called a timeout so they could regain their composure.
"We were just out of position," said Slater. "We have to communicate."
Easley put the dagger in the comeback attempt with two minutes left. With Ypsilanti (2-8, 1-3) leading by five, Easley was fouled as she made a basket extending the lead to eight. She completed the 3-point play and the Phoenix never looked back.
Lincoln was force to foul, but Jasmine Jones knocked down all five of her attempts from the line in the fourth quarter to seal the game. Jones would finish with 11 points.
Katelyn Morris led the Railsplitters with 12 points and six rebounds.
Although his team lost, Hotchkiss was happy with the way his team handled the press from Ypsilanti. But once they broke the press, the Phoenix were able to change their sets and give Lincoln fits offensively all night.
"We have to play our game, I don't worry about what we're going to do, the other team has to worry about what we're doing," said Slater.
By knocking off their rivals, Slater thinks the win will be a huge boost in confidence for his club.
"We have to be the best team in our own city," Slater said adding that he set a goal for his club to go 10-1 down the stretch. "I think that's an attainable goal for us."
Contact Matt Durr at mattdurr@annarbor.com.