Posted on
Fri, Jan 18, 2013 : 9:30 p.m.
Lincoln wins 43-40 nail-biter over rival Ypsilanti and more Friday girls results
By Pete Cunningham
Last updated 1:04 a.m.
AnnArbor.com Washtenaw County Girls Basketball Scoreboard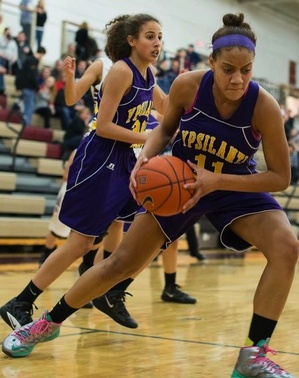 Courtney Sacco | AnnArbor.com file photo
Lincoln 43, Ypsilanti 40
Story
|
Boxscore
Dominique Foley scored a game-high 24 points as Ypsilanti Lincoln (10-2, 5-1 SEC White) defeated its crosstown rival Ypsilanti (5-4, 1-4 SEC White).
"In the first quarter Ypsilanti didn't have an answer for Dominique, and she was able to get to the basket and score," said Lincoln coach Michael Foley, Dominique's father. "She outscored Ypsilanti's entire team in the first quarter, and mostly was assisted by Arie (Cargor)."
Saline 49, Skyline 31
Story | Boxscore
Caitlin Ellis led Saline (6-5, 2-3 SEC Red) with 12 points, and Jessica Barnes finished with a career high 10.
"Skyline puts pressure on you and they did a very good job of making us turn the ball over in the first half," said Saline coach Jeff Waltz.
"In the second half we made some adjustments and we were able to get some good looks on offense."
Skyline (5-7, 0-5 SEC Red) is still seeking its first ever win over an SEC Red opponent.
Dexter 44, Chelsea 28
Story | Boxscore
Teia McGahey scored 10 points to lead a balanced Dexter offense. Makenzie Svihra and Emma Kill both added eight points.
Dexter is now 11-1 on the year (5-0 SEC White)
Grace Sauers, Riley Singleton, and Melissa Robards all scored eight points to lead Chelsea (6-4, 4-1 SEC White).
Detroit Allen Academy 34, Willow Run 27
Story | Boxscore
Willow Run (3-6, 2-1 MMAC) and Detroit Allen were tied 13-13 at the half and Willow Run trailed by just one entering the third but was outscored 12-6 in the final frame.
"This is our most disappointing loss," Willow Run coach Cliff Russell said. "We dominated the play in the first quarter. We were the aggressors and we ran well, played good defense, but we allowed them to get momentum before halftime."
"We were positioned to win, but we didn't get it done," Russell said.
Greenhills 56, Lutheran Westland 42
Story | Boxscore
Jackie Oestreich scored a game-high 18 points and had 13 rebounds and four assists to lead Greenhills (5-4, 4-1 MIAC).
Petersburg Summerfield 41, Whitmore Lake 24
Game details not available.
Rudolf Steiner 45, Calhoun Christian 29
Story | Boxscore
Rudolf Steiner (6-1, 3-0 Mid-South) held Battle Creek Calhoun Christian to four points in the second quarter en route to a 29-13 halftime lead, and the Storm stayed a perfect 3-0 in the Mid-South Conference.
Rudolf Steiner's Anika Sproull and Georgie Andrews led the Storm with 12 points each, and Abby Andrews added 11 points, nine rebounds and three blocks.
Pete Cunningham covers sports for AnnArbor.com. He can be reached at petercunningham@annarbor.com. Follow him on Twitter @petcunningham.