Lincoln's Mahamoudou Kaba every bit the 'football' player his size suggests
Posted on Sun, Sep 19, 2010 : 7:13 p.m.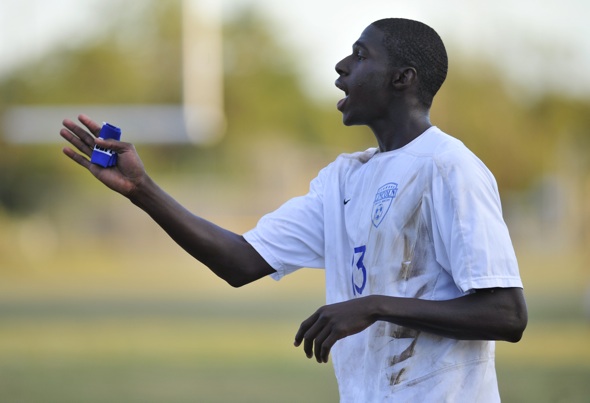 Melanie Maxwell | AnnArbor.com
He stands some 6-feet, 3-inches tall, but not the gangly kind. Formed and built. The term man-child comes to mind. Looks like a linebacker, moves like a wide receiver.
His name is Mahamoudou Kaba, and he's a football player at Lincoln High School. Just not the type you might expect.
Where Kaba was born, football is the term used for the sports he plays. The game Americans call soccer. That's what Kaba calls it now, too.
"I was born playing soccer," says Kaba, who was born in Guinea, West Africa. "My whole family, everybody, played soccer."
Back in West Africa, Kaba was the baby of a family that included his mother, Djaka, his father, Mamadi, and three brothers and two sisters.
His parents wanted their youngest to further his education, and a relative -- Kaba's aunt, Diane Tiranke -- was living in Ypsilanti. A 9-year-old Mahamoudou crossed the Atlantic Ocean to live with his aunt to pursue an education in America.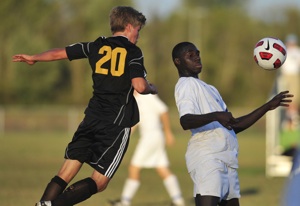 Melanie Maxwell | AnnArbor.com
"It was pretty tough," confesses Kaba. "I didn't speak English and I was in regular classes."
He says matter-of-factly that he "got used to it." And he was forced to be a quick study since due to the schooling system differences in Africa, Kaba was placed in an advanced class for his age.
He is now a 15-year-old senior.
While struggling through the adaptation to his new surroundings, Kaba always had a place outside the classroom to find solace - the soccer field.
"I've always had a soccer career on my mind," said Kaba, whose role model is Alessandro Nesta, an Italian World Cup-winning defender. "I wanted to play just like (Nesta) when I grew up."
Kaba may not be World Cup-bound just yet, but he's already got a national title under his belt. This past summer, Kaba - along with five other since-graduated prep stars from Washtenaw County - helped the Vardar Academy U-17/18 boys team win the U.S. Soccer Development Academy National Championship.
"It was a unique feeling," said Kaba, who plays defender like Nesta, which is no coincidence. "I was with guys that are top-rated in the country. Those guys work hard, and I like being part of a team that really works hard. I'm all about hard work."
It's a trait coaches like Lucian Popescu, who helped guide Kaba two years ago on the Vardar Academy team, are well aware of.
"What's amazing to me is that a player with that athleticism and capability is so focused on learning," said Popescu, who is in his first year as head coach at Greenhills School.
"Being 15 years old and playing for a U-18 team, it's amazing. I believe that he's a good prospect to become a professional player."
Kaba's coach at Lincoln, Bob Stowe, echoes Popescu.
"He has just a good work ethic and loves to play the game," said Stowe. "He's going all out every day. It motivates the other guys when they see it."
That's exactly what Kaba's hoping to accomplish.
"I want to be a leader," said Kaba, who has helped lead Lincoln to a 9-3 record, with a 3-1 Southeastern Conference mark so far this season. "We've got some good players. We're just trying to get the job done. A lot of people don't know what we got. If we win, we win; if we lose it's going to be a tough game. We're not going to back down."
As far as soccer after Lincoln?
"I'm going to finish high school and go to college or go pro - I don't know yet," said Kaba, who has Division 1 universities like South Carolina, Wake Forest, Clemson and Santa Clara atop his list.
"I've been dreaming all my life of playing pro soccer," he said. "I have a lot of work to do. I believe it's going to happen sooner or later. I think I'll make it if I keep working hard and God is on my side."