Posted on
Tue, Dec 11, 2012 : 7:47 a.m.
Logan Brown's double-double leads Chelsea over Manchester, and more Monday night hoops results
By Kyle Austin
AnnArbor.com Washtenaw County Scoreboard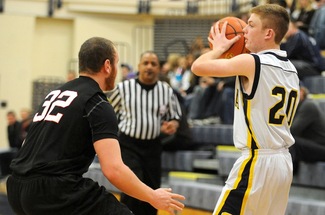 AnnArbor.com
Boys Basketball
Chelsea 87, Manchester 65
Story | Boxscore
Manchester started at a "frantic pace," according to Chelsea coach Rourke Skelton, but the Bulldogs settled in the third quarter to take the lead and pick up their first win of the season.
Logan Brown had 19 points and 10 assists for Chelsea, while Jayden Sweeny, Nate Bossory and Luke Hollandsworth finished with 14, 13 and 11, respectively.
"Once we got some composure, we started making easy baskets," Skelton said.
Manchester's Jacob Korican had 17 points.
Rudolf Steiner 58, Ypsilanti Calvary Christian 29
Story | Boxscore
Rudolf Steiner got off to a fast start, racing out to a 43-16 halftime lead, as they cruised past Ypsilanti Calvary Christian Academy.
Ben Hadlock led Rudolf Steiner with 15 points and five assists, and Andrew Howell added 12 points.
"Our pressure gave them trouble early in the game," said Rudolf Steiner head coach Nick Sherwood. "That allowed us to get some quick buckets going the other way."
Girls Basketball
Ypsilanti 65, Detroit International 6
Story | Boxscore
Ypsilanti led 46-4 at halftime as they cruised past visiting Detroit International Academy.
Jasmine Jones led Ypsilanti with 19 points, and Mackenzie Whitfield added 12 points.
"Our game plan tonight was to jump out on them early," said Ypsilanti head coach Chris Slater. "We were able to do that so were able to work on improving our movement on offense, and we were able to get a lot of players game experience tonight."