Posted on
Tue, Jan 17, 2012 : 10:15 p.m.
Logan Sims' 16 points leads Huron girls basketball team in win over Temperance Bedford
By Pete Cunningham
Temperance Bedford may have figured out a way to slow down the highest-scoring girls basketball team in the Southeastern Conference Red Division.
Unfortunately for the Kicking Mules, the strategy only worked for three quarters as Huron scored 22 points in the final eight minutes of a 58-34 win at Huron High School on Tuesday.
More coverage: Boxscore at MLive.com | Girls basketball roundup | Boys basketball roundup
Huron (6-5, 3-0) was able to score easy baskets in transition in the fourth quarter after being bogged down by Bedford's zone defense inside the half court for the majority of the game.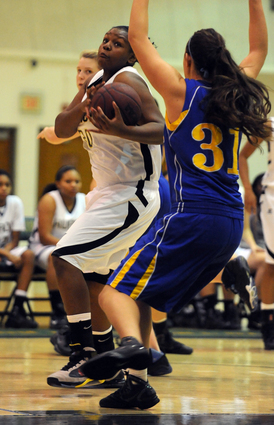 AnnArbor.com file photo
"Bedford plays one of the best zone defenses and typically they give us a lot of problems," said Huron coach
Steve Vinson
. "(In the fourth quarter) we were able to score in transition. Get some easy buckets."
But as effective as Bedford's zone defense was, Huron's high-pressure defense was even more so. The Kicking Mules took just four shots and committed eight turnovers in the second quarter and Huron took a 25-13 lead into the half.
Huron chipped away at the zone by feeding the ball down low to Logan Sims, who scored 14 of Huron's first 27 points by the midway point of the third quarter. She ended with a game-high 16.
"Our focus coming in was to try and get the ball down low and I thought we did that pretty effectively in the first half," Vinson said. "We got the ball to Logan and Alexis (Garner) and I thought they did a great job."
Halfway through the third, Vinson subbed out Sims and Garner and went with a five guard lineup that led to a faster pace in the fourth quarter.
"I think that started our transition when we went small," Vinson said
Only a minute had elapsed in the fourth quarter Huron's leading scorer, Devin Talley had taken as many shots (4) and scored more points (4) than she had in the previous three. After missing its first three shots of the fourth, Huron would make seven straight and stretch its lead to 50-28.
Talley would end with nine points, including seven in the fourth.
"I was kind of being passive," Talley said. "I just wasn't in it at first, but my team, they boosted me up so I was trying and eventually I scored."
Taylor Foster led Bedford (7-4, 2-2) in scoring with 10 points while point guard Ellen Hays scored all eight of her points in the second half -- including six in the fourth -- after sitting for most of the first half in foul trouble.
The River Rats had no answer for her defensively.
"To be able to hang with them we needed our point guard to stay out of foul trouble and she didn't," said Bedford coach Bill Ryan.
Contact Pete Cunningham at petercunningham@annarbor.com or by phone at 734-623-2561. Follow him on Twitter @petcunningham.