Posted on
Fri, Dec 16, 2011 : 3:11 p.m.
Longtime Saline teacher, coach Mike Price dies suddenly at age 51
By Pete Cunningham
This file was updated to include funeral arrangements.
Longtime Saline teacher and coach Mike Price, 51, died suddenly Thursday night.
Price taught physical education in the Saline school district for 15 years and was in his third year at Heritage School, teaching fourth- and fifth-graders. He taught at Saline Middle School previous to that.
"It's devastating; he was very much loved by staff and parents. It's a big loss. He's the guy you went to when you were feeling down," said Heritage Principal Les Sharon. "He was just the perfect person, good friend and a great teacher."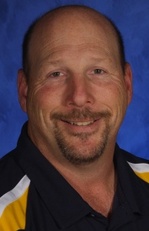 Sharon said students at Heritage were not told the news of Price's death immediately, but that parents were being notified and that counseling would be offered through the school.
In addition to teaching in Saline, Price coached a variety of sports. He was a longtime assistant with the varsity football program and was a current coach for the middle school track and wrestling teams.
"Whether it was as a coach, teacher, or driver's ed instructor there's not too many kids in this community that didn't have their lives affected by Mike," said Saline Athletic Director Rob White. "We're deeply saddened."
Price's daughter, Amanda, is a senior captain on Saline's varsity girls basketball team. The team will play its game at Tecumseh tonight, with a scheduled start time of 7 p.m. According to White, Amanda insisted the team play and urged them to win because "it's a league game."
White said Price will be honored with a moment of silence before the boys basketball home varsity game against Tecumseh tonight, which tips off at 7 p.m. There will also be a moment of silence before the home girls basketball game against Chelsea on Tuesday, which starts at 5:30 p.m.
Price is also survived by his wife, Merry, daughter, Renee, and son, Matthew, a sophomore defensive lineman for the Eastern Michigan football team. Mike was a captain for the EMU football team in 1983.
Arrangements for Price include visitation from 5-8 p.m. Saturday and 1-8 p.m. Sunday at Liberty Road Chapel, 3767 W. Liberty Road in Ann Arbor. Funeral services will be at 11 a.m. Monday at Liberty Road Chapel.