Posted on
Thu, Mar 14, 2013 : 2:59 p.m.
Manchester advances to Class C state title game with 53-46 win over Riverview Gabriel Richard
By MLive Media Group
J. Scott Park | MLive.com
Rich McGowan | MLive.com
Updated, 4:30 p.m.
EAST LANSING, MI — For three weeks, like all seniors, McKenna Erkfritz and Taylor Manders had been playing every game not knowing if it's their last.
They don't have to wonder anymore.
Erkfritz, Manders and the Manchester High School girls basketball team will play their final game of the season Saturday for the Class C state championship after defeating Riverview Gabriel Richard 53-46 in the semifinal Thursday afternoon.
More coverage: Boxscore | Photo Gallery at MLive.com
"It's a bittersweet feeling," Erkfritz said. "I don't want to be done, but this is my ideal game, the last game I would ever want to play."
The Flying Dutch (26-1) will play Saginaw Nouvel (25-2) for the state championship at 4 p.m. Saturday at the Breslin Center on the campus of Michigan State University. Nouvel defeated Houghton 44-32 in the other semifinal.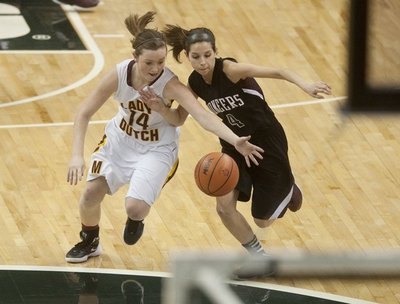 J. Scott Park | MLive.com
"It's crazy. One more game and I'm done. Forever," Manders said. "It's incredible. Words can't explain it."
When Manchester's offense was struggling to find its rhythm Thursday, the Flying Dutch, as they have throughout their run to the state final, redoubled their efforts on defense.
While Riverview shot a much higher field-goal percentage (42.1 percent to 29), Manchester took 24 more shots (62 to 38) and forced 23 Pioneer turnovers while turning the ball over just 11 times.
"We had an off-shooting night, but we persevered and buckled down on defense, which held us in the game," Manchester coach Cori Kastel said. "Here we are playing for the title."
Trailing 27-25 midway through the third quarter, Manchester's defense forced five Gabriel Richard turnovers before the end of the period, leading to the Dutch's best offensive outburst to that point.
Taylor Manders scored on a layup to tie the game. Less than a minute later she assisted on a layin by her sister, Jessie Manders. Taylor Manders then came away with one of her seven steals on the night and converted on a fastbreak layup.
Manchester went on an 11-3 run spanning 3:29 and took a 36-33 lead into the fourth quarter.
After Erkfritz opened the fourth quarter with a basket from the post, Jessie Manders scored a pair of baskets within 35 seconds of each other. A moment later, she came away with a steal, was fouled and knocked down both ends of a 1-and-1 to put Manchester on an 8-2 run to start the final quarter and take a 44-35 lead with 6:25 to play.
"As we started applying more pressure, all they did was look for (Riverview star Ashley Henderson)," Jessie Manders said. "As long as we had somebody glued to her, it forced the other guards to try to dribble, and we had great ball pressure to get the steal."
Erkfritz added a pair of baskets from the post to give Manchester a double-digit lead, 50-37, with 4:40 to go. Riverview got as close as six but never seriously threatened to take the lead.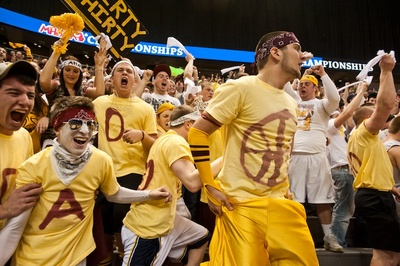 Mike Mulholland | MLive.com
"They know they can get it done," Kastel said. "We've always known the potential this group was going to grow into and we knew exactly, from the summer, this was where we wanted to be. This was one of our goals."
Erkfritz finished with 19 points, 10 rebounds and three steals. Jessie Manders scored 16 to go along with six rebounds and four steals and Taylor Manders added 11 points with seven steals and five assists.
Manchester's balanced scoring came in stark contrast to its 39-33 loss to Riverview in last season's regional championship in which Erkfritz scored all but 10 points for the Flying Dutch.
"It was mentioned to me their guard play had improved quite a bit," Riverview coach William Jones said. "They were getting a bit more out of their guards than depending on McKenna for so much. Certainly she is still a load in every conceivable fashion."
As Manchester looks ahead to its final game of the season Saturday, Taylor Manders hopes the Flying Dutch get their slow start out of their system before the opening tip.
"In warm-up we were shooting great then it was like, 'What's happening?'" Manders said. "We always say when we shoot bad in warm-up, we shoot good (in the game). Hopefully we shoot bad in warm-up next game."
Follow Rich McGowan on Twitter @RMcGowan1