Posted on
Wed, Feb 27, 2013 : 11:30 p.m.
Manchester and Arbor Prep win big to set up district final between state-ranked teams
By Matt Durr
One of the most intriguing girls basketball district final match ups will take place in Washtenaw County on Friday night after two of the Associated Press' top-10 teams, Manchester and Arbor Prep, advanced in Class C district semifinals on Wednesday.
The No. 9 Arbor Prep Gators will take on No. 3 Manchester at Manchester High School after both teams cruised to easy victories in Wednesday's district semifinals.
Manchester started the night by jumping out to an early lead against Willow Run and never looking back. Taylor Manders corralled the opening tip and sprinted down the floor for an easy layup just three seconds into the game. The Dutch didn't slow down leading 30-2 after the first quarter en route to an 82-7 victory.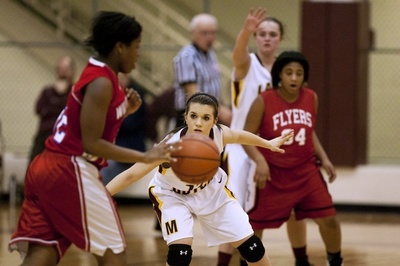 Andrew Kuhn | For AnnArbor.com
Jessie Manders
led all scorers with 21 points and tied a school record by making six 3-point field goals, including five in the first half.
"The defense wasn't right up in my face, so I had time to shoot. My teammates did a really nice job of finding me," Jessie said. "It feels good, it builds your confidence. Going into the district finals, having a game like that will really help my confidence."
Arbor Prep followed suit, knocking off Clinton 64-29 while forcing 30 turnovers on the night. The Gators jumped out to a 15-2 lead after the first quarter and held a 33-6 lead at the break.
More coverage: Manchester vs. Willow Run Boxscore | Arbor Prep vs. Clinton Boxscore | District Bracket | Wednesday District Roundup
Amaka Chikwe led all scorers with 20 points, while Zakiya Wells added 13.
"We live off our defense," said head coach Rod Wells. "We believe in going after the ball and we don't want the other team to get into a rhythm."
After their respective wins, players on both teams admitted they have been looking ahead to this matchup for a long time.
"We've been preparing for them all season. We knew Manchester was the team to beat," Zakiya said. "We always say our four C's, composure, concentration, confidence and commitment to this team is what we need to focus on."
Andrew Kuhn | For AnnArbor.com
The potential matchup even sparked the interest of the AnnArbor.com Game of the Week voters, who selected Friday's district final as the Game of the Week.
Taylor Manders admitted the Dutch (21-1) had been preparing specifically for this matchup for a month, since they found out Arbor Prep was in their district.
"We know they are a very quick team and that they like to drive to the hole," Taylor said. "We've been working on getting our butts back in practice. We've been doing a lot of sprinting getting ready mainly for this game."
The two teams have never played, yet both sides are well aware of each other's strengths. Manchester head coach Cori Kastel said her team must be ready for more than the pressure defense Arbor Prep (17-4) likes to utilize.
"Boxing out, calling for the ball, weak side rebounds, getting second chances and limiting their second chances as well," Kastle said.
Still, Kastel said keeping turnovers in check is her team's main goal.
"We have a lot of speed with our guards, a lot of ball handlers and we have a lot of depth," Kastel said. "We've got to have to be able to go. I think they're ready to handle it."
Coming off of last season's regional final appearance, Kastel said her team knows it can't afford any missteps.
"It's time to get serious. There isn't a guarantee for another game," Kastel said. "These three seniors, they're not ready for the season to be over."
The Gators are in the midst of their first season of eligibility in the state playoffs, but that inexperience isn't a concern for coach Wells.
"They're a young team, but with youth comes energy and they work really hard," Rod Wells said. "(Manchester) is a very good team, to me they're the favorite. We're playing on their home court and we've got to go out there and take it from them.
"They're not going to give it to us. They're a very good team and if we want to win it, we're going to have to play Arbor Prep basketball."
Wells went on to say that he thought the two teams were very similar, but that his squad must do a good job containing reigning Annarbor.com Player of the Year McKenna Erkfritz.
"(Erkfritz) is a real strong player, she's going to present challenges," Rod said.
Like the players, coach Wells said he has been anxious to get to this matchup, for many reasons.
"We haven't overlooked anyone, but we've looked forward to playing for a district title. We talked about when I was hired and here it is. It's right here in front of us," he said. "This is fun, this what I enjoy doing and we're going to enjoy the moment and see where we stand. This is a good barometer for where we're at as a program."
Friday night's game tips off at 7 p.m. at Manchester High School.
Matt Durr is a freelance journalist for AnnArbor.com.