Posted on
Mon, Dec 10, 2012 : 7:14 p.m.
Manchester girls basketball coach on facing Dexter: 'Don't count us out because we're small'
By Kyle Austin
Even after a record-setting season last year that saw Manchester's girls basketball team win its first league title in school history and a regional title, coach Cori Kastel wanted more.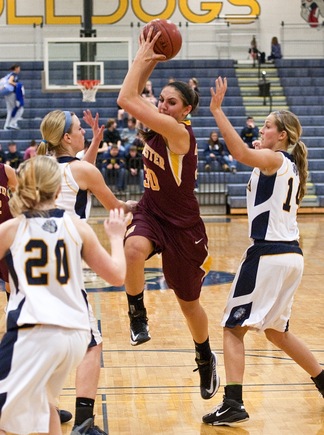 Joseph Tobianski | AnnArbor.com
"We didn't like how our season ended last year," Kastel said.
One of her solutions: beefing up the schedule.
The Class C Flying Dutch scheduled three Southeastern Conference teams for its early season schedule: Class B Chelsea, and Class A schools Dexter and Saline.
After beating Chelsea, 45-35, in its second game of the season, Manchester will face Dexter, 7 p.m. Tuesday night, in our AnnArbor.com "Game of the Week."
And while Kastel knows playing Class A and Class B teams will normally put her squad at a size disadvantage, she has confidence in her team.
"Don't count us out because we're small," Kastel said. "There's a lot of talent on this team."
Leading the way in the talent department is forward McKenna Erkfitz, who is already off to a record-setting start to her season.
Friday against Napoleon, Erkfitz set a school record with 37 points on 14-of-22 shooting. The performance broke Erkfritz's record of 30 points from last season.
After earning AnnArbor.com Washtenaw County "Player of the Year" honors last season and committing to Northwood, Erkfritz is averaging 21.8 points per game through four games this year.
"She walks around with a target on her back," Kastel said.
Kastel said a challenging AAU schedule during the offseason has helped her star forward coming into this season.
"It's definitely elevated her game," Kastel said. "She has a good workout routine. She's the one that will kind of come in and take extra shots."
On top of Erkfritz, the Flying Dutch have two other returning senior starters in Taylor Manders and Jess Coltre. Maddie Collins and Jessie Manders also return to round out Manchester's starting five.
That's given early season practices a different feel this year.
"I think the level of expectations is a lot higher," Kastel said. "This is a different team, with different chemistry in getting them to gel and come together."
Kastel said her team's biggest problem last year was with consistency, but through four games this year, it's been "so far, so good."
The 4-0 Flying Dutch travel to take on a Dexter team that also comes in undefeated, at 2-0. The Dreadnaughts have had three players score in double figures already, as Dexter looks to follow up on a 17-4 season.
Game of the Week
Our Game of the Week will be taking a holiday vacation, but it's not too soon to get the vote out in our first poll of 2013.
Kyle Austin covers sports for AnnArbor.com. He can be reached at kyleaustin@annarbor.com or 734-623-2535. Follow him on Twitter @KAustin_AA.