Posted on
Thu, Mar 14, 2013 : 5:45 a.m.
Manchester girls basketball team not satisfied in simply making it to Breslin Center
By Pete Cunningham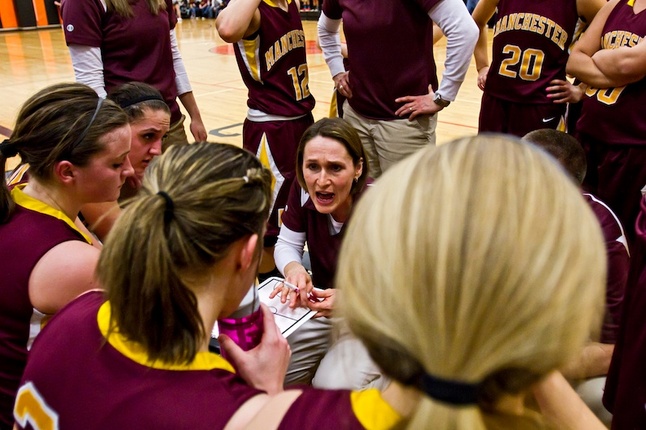 Mike Mulholland | MLive.com
With two minutes remaining in the Manchester High School girls basketball team's
Class C state quarterfinal game on Tuesday
, coach Cori Kastel finally cracked a smile.
Ahead by 24 points - as many as the Flying Dutch had given up in the previous three quarters of play - Kastel leaned over to her assistant coaches with an extended fist looking for reciprocation.
It was a long overdue round of fist pumps for a group that's made it to the regional finals three of the past four years, and out of character for the always focused Kastel, at least with time remaining on the clock that is.
"To see her that happy, after going through the ups and downs and the trials and tribulations of all season, it's a great thing to be able to sit back and know we just outright won quarterfinals," said assistant coach Chelsea Miller, one of the recipients of the fist bumps. "To see her that excited was awesome."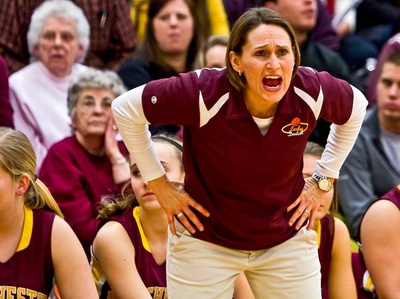 In typical fashion, though, Kastel was ready to move on preparing for the next game, an 1 p.m. Class C state semifinal against view Gabriel Richard (16-7) at the Breslin Center in East Lansing on Thursday. It will be the program's first-ever state semifinals appearance.
"We enjoy tonight, and we refocus tomorrow," Kastel said while receiving congratulations from seemingly Manchester's entire populace on Tuesday. "This is a once in a lifetime shot for me and to have the kind of talent in one school district with the way they play together, it's...I don't know how to describe it.
"You play with it, you run with it and you take advantage of it and enjoy every moment of it because who knows, this may never happen again."
Kastel's star player, 6-foot-1 forward McKenna Erkfritz had a similar focus following Tuesday's win.
"Me and her are the same type of person, we won't celebrate until there's four seconds left on the clock. Even then we're kind of antsy about what's going to happen," Erkfritz said.
Erkfritz said she's gone to the Breslin Center as a spectator every year she's been in high school. As a freshman she didn't believe it was possible to make it there. Now, she believes her team has what it takes to win it all.
"I never thought this would happen…but every year we've built a building block leading up to this year," Erfritz said. ""If we keep doing what we're doing, we'll have a good chance."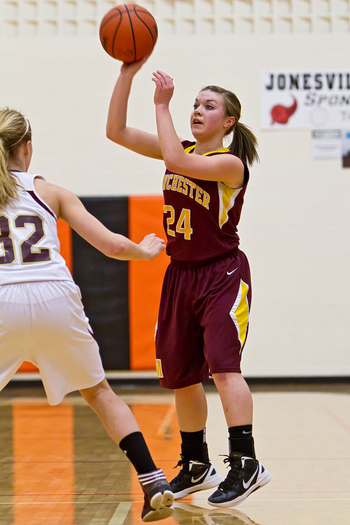 Mike Mulholland | MLive.com
What the Flying Dutch (25-1) have been doing is taking the lead from its core of seniors, Erkfritz,
Taylor Manders
and
Jesse Coltre
who have averaged 15, 14.3 and 6.8 points per game throughout the playoffs. Even the lowest scorer of the three, Coltre, has twice scored in double figures in the postseason.
Erkfritz and Manders have been on varsity all four years of their high school careers and Coltre for the past three.
"They complement each other. They are three different players and you take one of them away from each other and the other two aren't as good," Kastel said. "They know where to go, they trust each other. Just the eye look between McKenna, Taylor and Jesse, I mean they know where they're going just with the blink of an eye or a nod of a head."
Manchester also achieves balance with an infusion of youth from junior Jessie Manders (Taylor's sister) and sophomore Maddie Collins, who have each led Manchester in scoring in a playoff game this postseason, including a season-high 18 from Collins in Tuesday's quarterfinal.
The distribution of the scoring goes along with the team's motto, which they have printed across their warmup T-shirts: "Selfless."
For so long the goal has been to make it the Breslin Center, but Manchester arrives with elevated expectations as the highest remaining ranked team in the semifinals. Manchester was No. 3 in the final Associated Press poll of the season. No. 4 Saginaw Nouvel (24-2) and No. 7 Houghton (23-2) play in Thursday's second semifinal at 2:50 p.m.
"We made it but we're not done. Now that we're there, the next mission is to win it," Kastel said. "What we showed tonight, the confidence the execution, we can do it. You can't count us out."
MHSAA Class C girls basketball state semifinals
Who: Manchester (25-1) vs. Riverview Gabriel Richard (16-7).
What: MHSAA Class C girls basketball state semifinals.
Where: Breslin Student Events Center, East Lansing, Mich.
When: Thursday, March 14, 1 p.m.
Winner plays: Winner of Saginaw Nouvel (24-2) vs. Houghton (23-2).
Finals: Saturday, March 16, 4 p.m.
Scouting Riverview Gabriel Richard: Gabriel Richard has more losses on the season than the other three teams combined with seven. Before Richard's overtime win over Flint Hammady on Tuesday, it was unclear whether the Pioneers were getting hot at the right time, or just had an easy path through the playoffs.
Gabriel Richard answered the bell on Tuesday with a dramatic win over a Hamady team previously regarded as one of the top in the state. Down three at the free-throw line, Ashley Henderson was instructed to miss her second free throw intentionally, and her teammate, Megan Trueblood scooped up the rebound and scored to send the game into overtime.
Not only was it an exciting finish, it was seemingly about the only time Henderson has missed a basket since the start of regionals a week-and-a-half ago. Henderson has scored 31, 30 and 21 points in Richard's past three games. She is the key to Richard's chances.
Pete Cunningham covers sports for AnnArbor.com. He can be reached at petercunningham@annarbor.com. Follow him on Twitter @petcunningham.