Posted on
Tue, Mar 5, 2013 : 11:08 p.m.
Manchester overcomes first-half deficit to top Michigan Center in regional semifinal
By MLive Media Group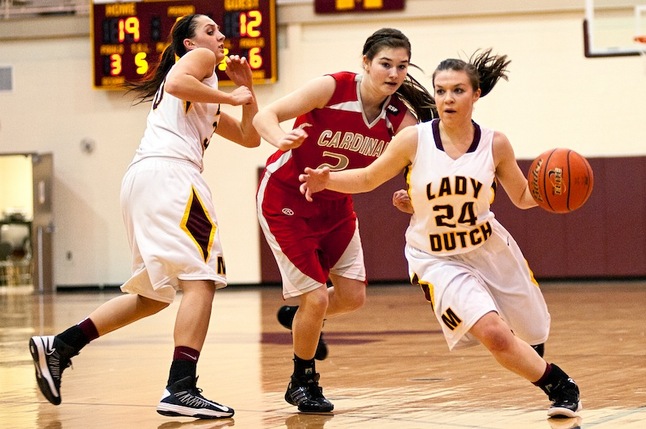 Mike Mulholland | Mlive.com
By Eric Hammis
HUDSON, MI - It's been a rare occasion that the Manchester Girls basketball team has found itself with its back against the wall this season.
Wednesday night in the Class C regional semifinal at Hudson High School, Manchester was in that position, trailing Michigan Center midway through the third quarter.
With the Cardinals doing the pushing, the Flying Dutch did what they've done all season: push back.
The Flying Dutch (23-1) caught their stride in the second half, putting away Michigan Center 53-43 to advance to the Class C regional finals where they will face Adrian Madison (20-2) at 7 p.m. on Thursday at Hudson High School.
More Coverage: Boxscore | Bracket
"It is certainly a different feeling, but every situation that we've been in with our backs against the wall, we've pushed ourselves through it," senior forward McKenna Erkfritz said. "I think it's definitely a good eye opener."
Manchester struggled through the opening half, connecting on one three-pointer in six attempts. On the other end, the Cardinals were lighting it up, scoring 15 of their 21 first-half points behind the three-point line.
Midway through the second quarter, Maegan Branham hit a three-pointer to finish off a 9-2 Michigan Center run, giving the Cardinals their biggest lead of the night at eight points.
"Their three-pointers were falling, and honestly, you live and die by that shot," Manchester coach Cori Kastel said. "Preferably, that's our last resort, and when we started to try and match it, that's when we got into trouble."
Coming out of the locker trailing by four points, Manchester's Jesse Coltre hit a three-pointer to cut the Cardinal lead to just one point, but Michigan Center answered back with back-to-back layups.
That's when Manchester's Taylor Manders took control.
Manders generated a 13-1 run that spanned over six minutes to finish out the quarter, giving Manchester a 33-26 lead heading into the final quarter. Manders accounted for 10 of the 13 points during that stretch.
"They always say it's hard to beat a team three times, and their defense got to us a little bit early on," said Manders, who led Manchester with 15 points. "Our shots weren't falling from the outside, so I thought, 'Hey, maybe the inside is open."
With the interior of the Cardinal defense exposed, the Flying Dutch continued from where they left off in the third quarter.
Michigan Center's Emily Powers opened the fourth quarter with a bucket inside, but Manchester answered with a 9-2 run that stretched until only 2:24 remained in the game.
Jessie Manders started the run with a three-pointer while Coltre connected on a pair of jump shots. Maddie Collins finished the run with a pair of free throws.
"I think when things started to go bad for us, we just kind of fell back on our heels," Michigan Center coach Joe Lusk said. "But we definitely had a lot of heart tonight, and we didn't quit."
Michigan Center wraps up its season at 15-9 and district champions.
Playing in her final game as a Cardinal was Branham, who led the way for Michigan Center with 15 points and six rebounds.
"She's been a four-year starter and I've had her since the fourth grade, so she's meant a lot to this program," Lusk said.
Coltre finished the night with 10 points and eight rebounds while Jessie Manders came up with eight points. Erkfritz also finished with eight points and grabbed 15 rebounds.
"Honestly, I thought tonight's game was going to be the tougher game because we have a very strong conference," Kastel said. "I'm very confident in the job that we can do after overcoming some of the obstacles we faced tonight.