Posted on
Fri, Oct 28, 2011 : 11:31 p.m.
Last-minute, 80-yard bomb knocks Manchester out of football playoffs
By Jason Idalski
Joseph Tobianski | AnnArbor.com
In a game featuring two great quarterbacks, it was Leslie's Brendon Smith who made the final and most crucial play of the night in the Division 6 first-round playoff matchup between Manchester and Leslie.
Smith completed an 80-yard touchdown pass with 47 seconds left to lead the Blackhawks to a 34-32 win over the Flying Dutchmen in a game that seemed over just seconds before.
More coverage: Boxscore at MLive.com | Photo Gallery | Division 6 bracket
Nick Cozart scored on a 2-yard run for Manchester with 59 seconds left to make it 32-28. After a touchback on the kickoff, and with Leslie out of timeouts, the Dutch looked ready for a rematch with Grass Lake in the district final.
But those 59 seconds were 58 more than Smith would need.
On first down -- and with Manchester's best cornerback on Leslie's best receiver, Kyle Bryson (who had 10 catches for 93 yards) -- Smith threw to the other side of the field, lofting a perfect spiral to Chanler Carmer just inside the sideline around midfield. Staying in bounds, Carmer outran the Dutch defense into the end zone.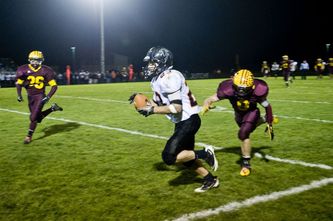 Joseph Tobianski | AnnArbor.com
"We gave them too much time," Manchester coach
Wes Gall
said. "Should've left it with zero on the clock ... I guess."
Manchester was 56 yards away with 18 seconds left when Nate Bossory, who had 260 yards passing and two touchdowns, threw an interception (the game's only turnover) to end it, leaving the Dutch to wonder what might have been.
Manchester led 22-8 at halftime and seemed poised to make it a three-score lead on the opening series of the second half, until a fumbled shotgun snap resulted in "third and forever," as Gall put it, and a punt on the next play.
After Leslie, which had touchdowns on all four of its second-half possessions, made it 22-16, the Dutch got to the 3-yard line but settled for a field goal. A three-and-out their next possession put a gassed Manchester defense on the field clinging to a three-point lead.
"We're always going to second-guess ourselves," Gall said. "If we capitalize on those things, different score."
Still, the Dutch nearly held. Leslie had fourth-and-10 with 4:39 left, when Smith threw for 10 yards. Leslie's touchdown three plays later set up the frantic final minutes.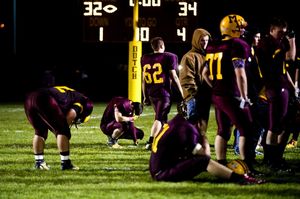 "We felt he was the best quarterback we had to go against this year," Gall said of Smith.
Smith threw for 285 yards on 19-for-27 passing and ran 15 times for 104 yards, making positive yardage on several plays where he seemed to be sacked.
"We had them. We didn't make good secure tackles. We had people in position to make tackles and we didn't make secure tackles," Gall said. "There's no doubt our defense wore down."
Manchester finishes the season 8-2 and won't get a chance to avenge its only regular-season loss to Grass Lake, which plays Leslie in the district final.
A majority of Bossory's 260 passing yards went to Josh Finley, who had 81 receiving yards and a touchdown, and Devin Jose (75 yards). Cozart had eight carries for 63 yards.
"There's nothing for them to hang their head," Gall said. "I told them they had great effort."