Posted on
Sat, Mar 16, 2013 : 5:34 p.m.
Manchester defeats Saginaw Nouvel Catholic Central for program's first-ever girls basketball state title
By Pete Cunningham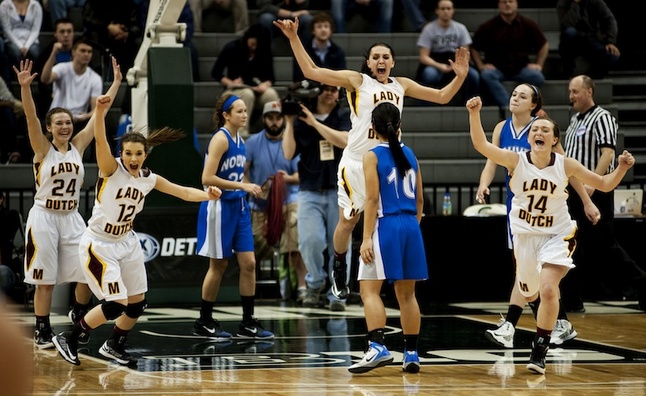 Daniel Brenner | AnnArbor.com
Updated 7:30 p.m.
EAST LANSING -- In a postseason where nearly everything had gone right for the Manchester High School girls basketball team, slow starts were one glaring weakness.
And when the Flying Dutch fell down 14-2 against Saginaw Nouvel on Saturday, it looked like that weakness might finally catch up with them with a state title on the line.
But Manchester had one more comeback left in it, and rode it all the way to the school's first ever team state championship with a 57-52 win in the MHSAA Class C state championship game at the Breslin Center in East Lansing.
Down 14-5 after the first quarter and being dominated on the boards, 12-4, it looked like Manchester's depth and athleticism wouldn't be able to save it from Nouvel's defense and height.
Then the team got a wakeup punch to the mouth…literally.
More coverage: Photo Gallery | Boxscore | "Maroon Monsoon" turns out to support team | Live chat recap | Nouvel seniors close successful careers with disappointing loss
All-State senior forward McKenna Erkfritz went on a personal 7-0 run in the middle of the second quarter, capped off with a pair of technical foul shots after getting slapped in the face by Rachel McInerney under the hoop while battling for position.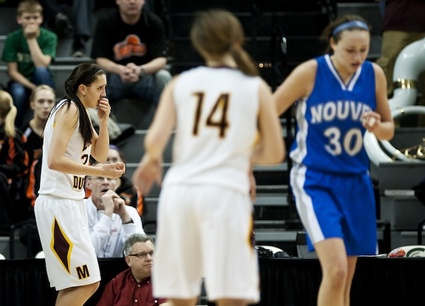 Daniel Brenner | AnnArbor.com
The sequence made the score 16-12 at the time, but more importantly seemed to ignite Manchester.
"To be honest I didn't really know what happened, it really took me by surprise the play wasn't even started before it happened. I thought I was bleeding and I thought I lost my teeth a little bit. But you have to play through it," Erkfritz said. "My teammates I knew they had my back the entire game and I just had to go out and play my game and not worry about what she was going to do next."
McInerney owned up to the slap after the game and said Erkfritz had pulled on her injured fingers during a scrum under the basket prior to the retaliation.
"She was grabbing my hand and trying to pull back on it and it's really painful and so it was almost like a reflex I guess," said McInerney. "It's still not appropriate, I like feel so bad about it, but it was…I don't know."
As if motivated by her fat lip, Erkfritz couldn't be stopped the rest of the way, putting her team on her back to the tune of a game-high 22 points, 11 rebounds four blocks and two steals, despite a scoreless first quarter.
Erkfritz knew she was on after swishing her free throws following the McInerney foul.
"It was about time because I could not hit a brick wall (from the free-throw line) lately," Erkfritz said with a laugh. "I just kept taking my time and I kept finding openings…I missed a couple in the beginning and then once it started falling, I just got my confidence back up and, exactly what Taylor (Manders) said I was able to breath."
After what Cori Kasel called a "sloppy" first half, Manchester trailed 22-18.
"At halftime we kind of looked at each other and said, 'we're playing this bad and we're only down by four?'" Manders said.
Fittingly, Manchester (27-1) took its first lead of the game after Erkfritz got a block, then hustled down for a shot to put Manchester up 29-28. Nouvel took the lead right back with a 3-pointer from Paige Albito, but Manders countered with a 3-ball of her own and Manchester led the rest of the way.
"They did a nice job I thought too, I thought of picking up the tempo and attacking the basket (in the second half)," said Nouvel coach Kris Hengesbach. "They got to the basket or we'd foul and they'd make the free throws."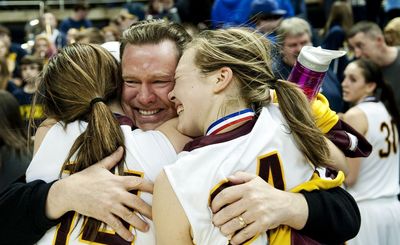 Daniel Brenner | AnnArbor.com
Manchester made 17-of-21 free throws (81 percent) and out-rebounded Nouvel 31-16 after the first quarter.
"We just weren't moving to the seams that they gave us. We were forcing things and we weren't patient. When we try to force and make things happen that's when we kind of fall apart instead of maintaining our composure," Kastel said of the first quarter.
Kastel credited seniors Erkfritz, Manders and Jesse Coltre with figuring out the team's deficiencies on the glass and correcting it the rest of the way. They finished with 11, five and six rebounds respectively.
"These girls knew what had to be done. We asked, we demanded and they did it," Kastel said. "There's a lot of fight in these kids and they showed that tonight."
Manders finished nine points and her sister, Jessie Manders had 11. Taylor Hengesbach finished with 17 points to lead Nouvel (25-3) and McInerney had 15.
Pete Cunningham covers sports for AnnArbor.com. He can be reached at petercunningham@annarbor.com. Follow him on Twitter @petcunningham.