Posted on
Fri, Apr 13, 2012 : 12:47 p.m.
McKenna Erkfritz is Washtenaw County girls basketball Player of the Year
By Matt Durr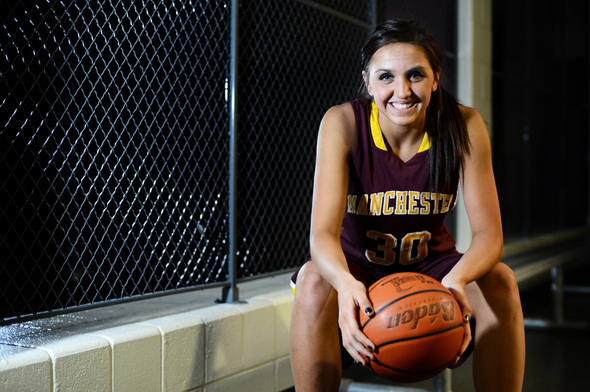 Melanie Maxwell I AnnArbor.com
As a child, Manchester High School girls basketball player McKenna Erkfritz thought about what it would be like to be earn an all-county selection as an athlete.
In the back of her mind, she never thought it was a tangible goal.
Turns out, she was wrong.
Erkfritz is AnnArbor.com's 2012 Washtenaw County girls basketball Player of the Year.
"I thought that maybe one day (I would win the award), and now that it actually happened, I'm so shocked. But I'm so happy," said Erkfritz, who found out she won the award while in Florida for spring break.
"It's an honor. There are so many great players that have put in the time. They all deserve to be recognized. It means a lot because our school is never thought of to have the elite player."
As a junior this season, Erkfritz averaged 17.1 points and 8.9 rebounds while leading Manchester to its second district championship in three years and its first regional victory in school history. Standing 6-foot, Erkfritz usually towers over opponents and dominates the paint.
However, coach Cori Kastel said it's Erkfritz's "basketball smarts" that make her such a force on the court.
"She is not a selfish player. She knows when to push and when to include her teammates," Kastel said. "That's how she has grown as a leader. She knows it not about herself. She can't do it alone, and she knows that."
Much of that growth can be attributed to her time playing Amateur Athletic Union (AAU) basketball in the offseason. For the past five years, Erkfritz has played against some of the best talent in her age group each offseason. Because of the intense nature of AAU ball, Erkfritz has improved at a more rapid rate than some of her peers.
"We play against a lot better competition, and you have a lot of different experiences. You're all going for one goal of playing college basketball, and you learn so much," Erkfritz said.
Kastel said she agrees that AAU has made a big difference in Erkfritz's game.
"That forced her to pull out some of her potential. She had to find others ways to keep herself on the court. She has goals, and she is willing to do what it takes to reach those goals," Kastel said. "Every year, she has taken a step forward."
With her senior season still ahead of her, one of those goals is to reach the state's final four and play at the Breslin Center in East Lansing.
"We're so jealous; we just want to play there one time," she said.
Getting there won't be easy, but Erkfritz said she believes in herself and more importantly to her, she believes in her teammates. She said she feels they will reach that goal together.
"Everyone does their part on our team. I know my role, and everyone else knows their role and when we play together we're great. They've got my back, and I've got theirs."
Matt Durr covers sports for AnnArbor.com. Contact him at mattdurr@annarbor.com.