McKenna Erkfritz's 24 points lead Manchester past Arbor Prep to third district title in four years
Posted on Fri, Mar 1, 2013 : 11:35 p.m.
In her final game on her home court, Manchester senior McKenna Erkfritz saved one of her best performances for last, helping the Flying Dutch win their third district championship in four years.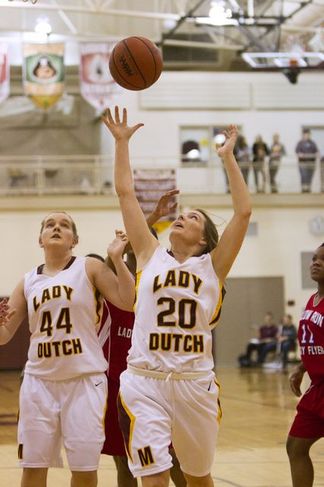 Andrew Kuhn | File for AnnArbor.com
Erkfritz scored 24 points to go along with 12 rebounds and three blocks as the No. 3 Dutch defeated the No. 9 Arbor Prep Gators 57-42 Friday night.
More Coverage: Boxscore
"We knew we had a size advantage all week and for the first couple minutes of the game it didn't seem like that," Erkfritz said. "But once they started finding me and getting me the ball, we were wide open and back into our game."
With her team trailing 16-9 with seven minutes to play in the first half, Erkfritz knocked down a 3-pointer to cut the lead to four. On the next two Manchester possessions, Erkfritz scored again to tie the game halfway through the quarter. During a five-minute stretch in the quarter, the reigning Annarbor.com Player of the Year scored nine points, pulled down six rebounds and had a block and an assist.
"That kid can handle the ball, she can shoot from the outside and when you have a player like that, how are you going to stop her?" said Manchester head coach Cori Kastle.
At one point, Erkfritz, a center served as the primary ball handler, bring the ball up the court for Manchester.
"They weren't pinching up on me and I figured if I could bring it up court every time to relieve the pressure on my guards, I'm going to do it," Erkfritz said.
After taking the lead in the second quarter, the Dutch didn't trail again, shutting out the Gators over the final seven minutes of the first half.
"Honestly if we would have gone man-to-man on them, it would have been a lot closer of a game," said Manchester's Taylor Manders. "They're very fast and very hard to control."
Manchester took an eight point lead into the half and extended it to 13 after three quarters.
The Gators were in control throughout the first quarter, forcing six turnovers and limiting the Dutch to just two field goals.
"We hit a little lull in the second quarter there and our shots just weren't falling," said Arbor Prep coach Rod Wells. "I thought they were good shots and they weren't making them and Manchester was making theirs. It swung the momentum of the game."
Zakiya Wells led the Gators with 16 points.
Emotions ran high in the second half as Wells drew a technical foul after arguing a call with officials. A large discrepancy in the fouls seemed to draw the ire of Wells and his players. Manchester shot 31 free throws compared to 14 attempts by Arbor Prep.
The district championship is the third in four years for Manchester, a program that had just two in program history prior to this most recent run. For Manders and Erkritz, winning a district title in their final home game was a special moment.
"It feels awesome because honestly, senior year is supposed to be your year and if I didn't get it this year, I would have been pretty bummed," Manders said.
Manders and Erkfrtiz, along with fellow senior Jesse Coltre comprise the most successful group in program history. But according to Kastle, the district title was the starting point.
"They're on a mission and they're not done. It's tough to be a team three times but, they're confident, but not over confident," Kastle said.
Manchester moves on to play Michigan Center (who defeated No. 6 Concord) in the regional semifinal held at Hudson High School. The two teams played twice already this season with the Dutch winning both games by scores of 49-29 and 60-38. Tipoff for the regional semifinal is scheduled for 8 p.m.