Posted on
Sat, Nov 5, 2011 : 6:59 p.m.
Chelsea's Bryce Bradley wins cross country state title; Saline girls runner-up
By Pete Cunningham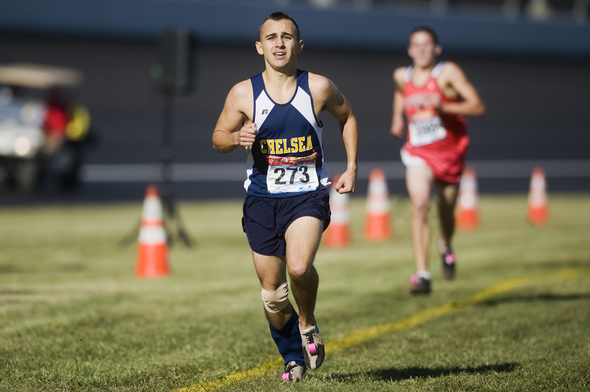 Paige Calamari | Jackson Citizen Patriot
As Bryce Bradley approached the finish line at Michigan International Speedway, the brace for his right knee had long since slid down near his ankle and he began to slow.
Dearborn Divine Child's Nicholas Soter began to close the gap between he and Bradley, the leader.
Bradley would hang on to capture the MHSAA Division 2 boys cross country state championship.
"I didn't want him to beat me, I was dying," Bradley said. "I could not go any faster. I was done."
It was Bradley who trailed Soter by 7 seconds at the 2-mile mark. But just as he did his junior year -- when he charged from 11th to second in the final 1.1 miles of the state championship race -- Bradley found an extra gear for the home stretch.
His time of 15 minutes, 20.6 seconds was the fastest time of the day across all four MHSAA divisions.
"That's how we train," said Chelsea coach Eric Swager. "We practice on hammering the last mile."
Last year, Bradley came out out of nowhere. This year, it was expected. But after aggravating his knee, he could barely train the week heading into the championship. Swager wasn't overly concerned with the lack of work heading into the race.
"With him, it's all heart. He has the conditioning in there," Swager said. "For him, it's just a will to win. He won that race because he was the toughest guy out there."
Bradley's teammate, Austin Horn, finished in similar fashion, passing a pack of of runners at the end of the race to move up to 22nd place (16:14.9) and earn all-state honors (top 30). Chelsea finished eighth as a team with 262 points. Milan came in 21st with 274.
Mason took first with 92. (Division 2 boys results)
The Saline girls team came into the day ranked No. 1 in Division 1, but finished in second place with 111 points, just five points behind winner Grosse Pointe South.
Saline coach Mike Smith said regardless of the top ranking, he was not disappointed in how his team finished.
"At first they were (disappointed), which I understand and we allowed that for about two minutes and then I said don't you dare," Smith said. "A lot of years we left here pretty disappointed because we thought we had underachieved. But that's not the way we feel today."
Saline had three runners earn all-state honors for the first time in program history. They include freshmen Abby Rentschler (23rd, 18:42.4) and Lauren Green (25th, 18:44.8). Senior Amy Creutz finished 30th (18:51.8).
"It just pushes us and inspires us to do better next year because next year we're coming back strong and we really have that motivation now," Green said.
The Dexter girls team finished 22nd with 514 points. (Full Division 1 girls results)
Saline's boys team took fourth in Division 1 with 186 points. Milford took first with 128. The Hornets and had a pair of all-state runners in Nick Renberg (3rd, 15:28.6) and Spencer Bishop (26th, 15:58.4).
Renberg set a goal of keeping pace with one of the race favorites, Evan Chiplock of Saginaw Heritage, who held the lead after two miles. Renberg passed Chiplock -- who ended up falling and finished out of the top 30 -- with about 1,000 meters remaining.
"That's all I had. My whole race plan was to beat Chiplock," Renberg said.
White Lake Lakeland's Garret Zuk won the race with a time of 15:21.2.
Bishop called the fourth-place team finish bittersweet.
"I felt like the guys gave it their all, so I feel like that's a good positive thing," Bishop said. "We didn't place as well as we wanted to, just an overall bittersweet feeling I'd say."
Huron High School senior Jacob Higle-Ralbovsky took home all-state honors with a 15th-place finish (15:53.4).
Dexter's boys team finished in sixth place (217) despite not having a single all-state individual. Pioneer finished in tenth place with Galen Burrell finishing one place shy of all-state status in 31st place. (Division 1 boys results)
The Chelsea girls team finished in ninth place and Milan finished in last place in the Division 2 girls race. (Division 2 girls results)

DIVISION 3
If you didn't know any better, you'd think Father Gabriel Richard sophomore Andrea Bodary was at MIS cheering on an older sibling. But there was no mistaking the tiny tenth grader for anything but a competitor during the Division 3 girls race.
Bodary earned all-state by the skin of her teeth on Saturday, finishing in 30th place with a time of 19:31.4. Bodary said it was her best race of the year.
"I really gave it my all today," said Bodary, who didn't know if she had made the top 30 when she crossed the finish line. "I was really excited when I found out."
Father Gabriel Richard finished 16th out of 27 teams with 419 points. Benzie Central won with 126.
In the boys race, Washtenaw County's two individual qualifiers -- Ronnie Millbocker (Whitmore Lake) and Matt Kemner -- finished 75th and 92nd respectively.
Division 3 girls results | Division 3 boys results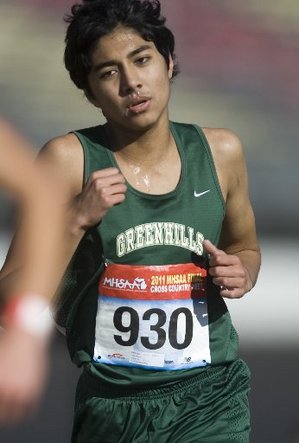 Katie Rausch | Jackson Citizen Patriot
DIVISION 4
Greenhills School junior Ashwin Fujii crossed the finish line unsure of where he had finished. His goal was to be All-State, and he knew it would be close. When the final results were tallied, Fujii had done exactly that, placing 24th with a time of 16:47.3.
"It was tough. Beautiful day to run though," Fujii said. Though Fujii ran in the early races, when the temperature hovered in the low 40s, he called the conditions "perfect."
"It was a bit windy, but this time of year that what you can expect," Fujii said. "I felt strong the whole way through. It was tough in that last stretch...it's a lot longer than it seems, so it's tough on you mentally."
Division 4 boys results | Division 4 girls results
Pete Cunningham covers sports for AnnArbor.com. He can be reached at petercunningham@annarbor.com or by phone at 734-623-2561. Follow him on Twitter @petcunningham.