Posted on
Fri, Aug 23, 2013 : 11:26 a.m.
Michigan State running back Nick Hill at home on Chelsea sideline
By Pete Cunningham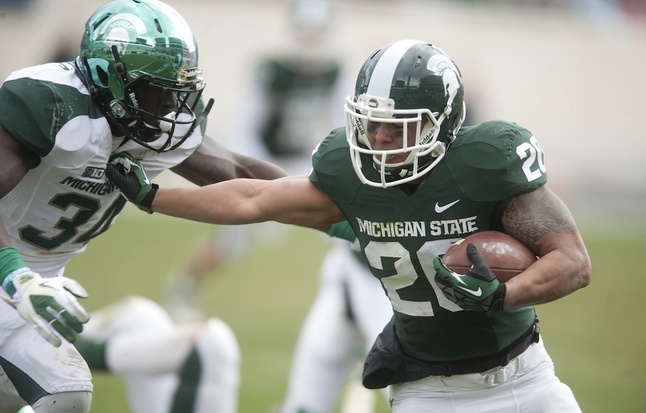 J. Scott Park | MLive Media Group file photo
You can take the Bulldog out of Chelsea, but you can't take the Chelsea out of the Bulldog.
2013 ANNARBOR.COM HIGH SCHOOL FOOTBALL PREVIEW
Ready for the high school football season? Be sure to check out AnnArbor.com's football preview section on newsstands Sunday. Elements of the package will be rolled out on the following schedule online:
Thursday:
Friday:
Sunday:
Team-by-team glance at SEC Red

Team-by-team glance at SEC White

Team-by-team glance at Washtenaw County's "other" squads
That much was apparent at Thursday night's four-way football scrimmage at Jerry Niehaus Field, where former
Chelsea High School
running back
Nick Hill
could have been mistaken for an assistant coach.
Hill - a redshirt junior running back at Michigan State - casually watched for the first couple of plays as Chelsea took on Monroe Jefferson, but before the first offensive series was over he was screaming out coverage schemes and encouragement from the sideline.
"It brings me back to those Friday nights out here. Brings me back to grinding with the team," Hill said. "Reading the defenses, seeing what they're doing. I'm still in camp mode, as they say."
Michigan State held its final practice of fall camp Thursday morning, and Hill hopped in his car and headed for Chelsea shortly thereafter. Hill and the Spartans open their season against Western Michigan next Friday. With kickoff scheduled for an hour after Chelsea's opener against Lansing Sexton, Hill won't get to see his former team play.
"They play next Friday, same time as us, so I wanted to see them live and in action, not just at practice," Hill said.
Hill was the Associated Press Division 3-4 player of the year for Chelsea back in 2009, an appropriate cap to a fantastic four-year career which left his name dotted all over the MHSAA record book. Among his several records, Hill finished with 6,910 career yards rushing yards, 98 rushing touchdowns and 949 rushing attempts, sixth, second and second all-time in the state, respectively.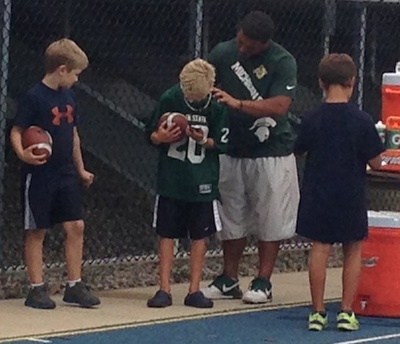 Pete Cunningham | AnnArbor.com
Though his high school career ended nearly four years ago, Chelsea fans still remember Hill well, as evidenced by the several children running around the field in No. 20 Michigan State jerseys. When informed that the person whose jersey they were wearing was on the sideline, several children came up to Nick seeking autographs. Those without the jerseys asked Hill to sign a ball, Bulldogs T-shirt or cap and he happily obliged.
One shy young girl blushed as her father spoke with Hill. She eventually garnered the courage to get a hug and her picture taken with her favorite player.
Her smile may never go away.
Just 20 minutes from Ann Arbor, it's clear Hill has carved a slice of Spartan nation into what is typically Wolverine country.
"When they come up to me, it's a true honor, that I'm able to touch people. It's a way for me to give back to people who support me," Hill said. "It makes me feel proud for my team, that I'm able to represent my team as well as I can, that we got State fans out here."
Pete Cunningham covers sports for AnnArbor.com. He can be reached at petercunningham@annarbor.com. Follow him on Twitter @petcunningham.