Posted on
Tue, Jul 16, 2013 : 10:44 a.m.
Reports: Michigan to play in high school football All-Star game against Ohio
By Kyle Austin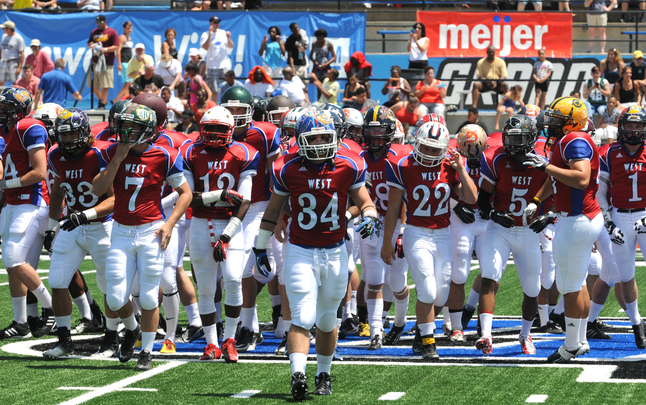 Mark Copier | MLive.com file photo
The state's top senior high school football players will soon be able to test their talents against the best competition from across the border.
Michigan and Ohio will face off in the inaugural Ohio-Michigan Border Classic on June 14, 2014, both states coaches associations have announced.
The game, to be held in Findlay, Ohio, and will pit each state's top 40 seniors against one another. Each team will be selected by a five-person coaching staff.
The Michigan High School Football Coaches Association has previously sponsored an East vs. West All-Star game in June, held this year at Grand Valley State. That game will likely be ending with the formation of the Michigan-Ohio All-Star game, according to The O-Zone.
"We want to increase our range of communications and visibility as a state and promote our kids as much as possible and this move allows us to do that," MHSFCA All-Star Game chairman Jim Sparks told MIPrepZone.
Tyler Palka of Saline, Michael Steinhauer of Chelsea, Tyree Waller of Lincoln and Drew Diedrich of Father Gabriel Richard participated in this year's East vs. West game.
Ohio had previously played an annual All-Star game against Pennsylvania, before Pennsylvania stopped participating after this year. Ohio had won for four years in a row.
Kyle Austin covers sports for AnnArbor.com.