detroit free press:

Mick McCabe: Chelsea's been playing playoff football for a month

Posted on Mon, Oct 8, 2012 : 5:30 a.m.
The playoffs technically don't start until after Week 9 of the high school football season. But when you lose your first three games, like the Chelsea High School football team did this year, playoff football begins in Week 4. As Mick McCabe of the Detroit Free Press writes, the Bulldogs are headed into their fifth week of postseason-type football.
After an 0-3 start to the season and knowing the next loss essentially eliminates them from the postseason, the Bulldogs have put together four straight wins.
"We've never been 0-3 or played that bad," Chelsea coach Brad Bush told McCabe. "I mean, we were bad with a capital 'B.' It was a reflection of how we practiced and prepared."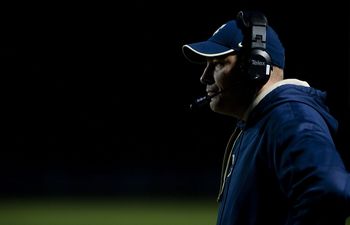 Daniel Brenner | AnnArbor.com
That's changed in the weeks since and Chelsea is now riding a four-game win streak and atop the Southeastern Conference White Division standings after a
31-28 win over previously unbeaten Tecumseh
on Friday.
If Chelsea wants to get in the actual playoffs, though, it will need to end the season with wins over Dexter and Haslett.
That's no given. Though Dexter is 0-7, Haslett is 4-3 and in the words of Bush, "a very good team."
But if the Bulldogs do pull it off, Bush likes his team's chances.
"I think if we get in the playoffs, we can do some damage," Bush told McCabe.