Posted on
Fri, Mar 2, 2012 : 7 p.m.
Dexter's Drew Barnes advances to state wrestling semifinals; among seven Washtenaw County all-staters
By Pete Cunningham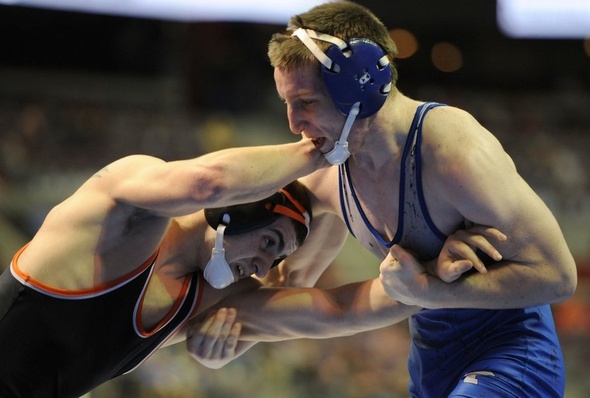 Angela J. Cesere | AnnArbor.com
AUBURN HILLS -- When
Dexter High School
wrestling coach
Greg Wagner
had his team practice its
Peterson roll
defense, it was for the benefit of his younger, less experienced wrestlers.
It wasn't meant to be a how-to manual for advancement to the state semifinals.
Drew Barnes used the counterattack to put his quarterfinal match out of reach on Day 2 of the MHSAA individual wrestling state finals Friday at The Palace of Auburn Hills.
Barnes beat Lansing Waverly's Thomas Houston 8-2 to advance to the semifinals at 160 pounds in Division 2. (Bracket)
Though Barnes was unable to keep Houston on his back, the second near-fall points gave him a comfortable lead.
"It's something we had drilled early in the season because a lot of younger guys were getting caught," Barnes said.
More coverage: Photo Gallery | Statewide coverage at MLive.com
"We were getting killed in Peterson rolls, it's really nothing that he's really hit, but the opportunity presented itself," Wagner said. "It really extended that match to where it was out of reach."
Of the six Washtenaw County wrestlers to participate in the championship quarterfinals, Barnes was the only to advance. He will face defending state champion Jordan Wohlfert of St. Johns in Friday night's semifinals.
Wohlfert is 99-1 over the past two years.
"Get the first takedown, wrestle hard and not worry about it," Barnes said of his upcoming match. "I just gotta go out there and wrestle my best match."
Barnes is guaranteed a top-six finish. He is one of seven Washtenaw County wrestlers to earn all-state honors by advancing to Saturday's medal round.
Among those all-staters is 119-pound Lincoln sophomore Jordan Markey. After losing his opening round match on Thursday in Division 1, Markey won both of his matches on Friday.
According to coach Mike Betts, Markey is the first Lincoln wrestler to ever earn all-state before his junior season.
"He's got natural talent," said Betts, who convinced Markey to wrestle just prior to last season. "I talked to him in the hallway, he said 'I'll give it a try' and he's stuck with me ever since."
Lincoln's Ed Nuttall (145) was disappointed after a 2-1 quarterfinal loss to Flint Carman-Ainsworth's Jake Weissend, who is undefeated on the year, but didn't let the loss effect his next match as he advanced to earn all-state for the second straight year.
"(The loss) was disappointing, but I just had to move on because I knew if I didn't, I probably would have lost (the next one)," Nuttall said.
Also advancing to the medal rounds for the second straight year were Manchester's Austin Hamilton (Division 4, 215) and Chelsea's Steve Bleise (Division 2, 119). Both lost in the quarterfinals before winning convincingly during the elimination or "blood" round. Hamilton with a first period pin and Bleise with a 13-4 decision.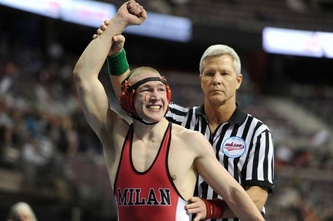 Chelsea's Mike Hovater (Division 2, 171) and Milan's Chris Gaskill (Division 2, 160) advanced in far more spectacular fashion, coming back from third-period deficits in their blood round matches.
Trailing 9-6 with four seconds remaining, Gaskill bridged out of a cradle from Sparta's Kyle Rause for a reversal. Though the referee started counting back points, Milan coach Clint Kraft wasn't sure there was enough time to get the minimum two-count to score.
There was, making Gaskill a 10-9 winner.
"I knew it was going to take too long to fight it off the traditional way, so I just wanted him to up and roll create a scramble," Kraft said. "I didn't know if there was enough time to score, but that's what he did."
Hovater started the third period of his elimination match down 7-5, but reversed Zack Gnass of Byron Center to force overtime before winning with a takedown in the extra session.
"He was able to pull it off with sheer determination," Chelsea coach Kerry Kargel said.
Check AnnArbor.com for regular updates from all three days of the tournament.
Contact Pete Cunningham at petercunningham@annarbor.com or by phone at 734-623-2561. Follow him on Twitter @petcunningham.