Posted on
Fri, Jan 27, 2012 : 11:30 p.m.
Mike Lewis explodes for 29 in Huron win over Skyline
By Pete Cunningham
Chris Asadian | AnnArbor.com
Well beyond the 3-point line in the fourth quarter -- even past NBA range --
Huron High School
forward
Mike Lewis
held the basketball and had as much space in front of him as Skyline had given him since the first half.
Why would a 6-foot-3, 220-pound post player even fathom taking a shot?
With the night Lewis was having, the better question was: Why weren't they guarding him out further?
The shot went up and, like the four Lewis 3-pointers previous to it, went in without so much as grazing the iron.
More coverage: Boxscore | Photo Gallery | Basketball roundup
Though Lewis was finally done from 3-point range (he finished 5-of-8), he certainly wasn't done for the night as he moved back to his normal stomping the grounds -- the paint -- to put in eight more of his game-high 29 points in a 58-48 win over Skyline at Huron High School on Friday.
Lewis can score in a lot of ways, but when he couldn't seem to miss from beyond the arc, it almost seemed unfair.
"The rim felt huge, the game it felt like it was flowing nicely," Lewis said.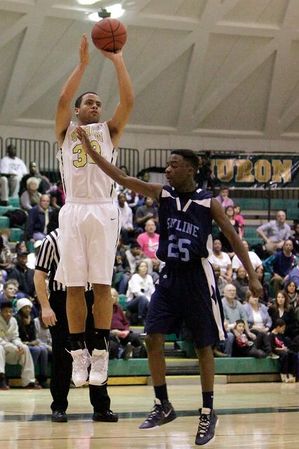 For the second week in a row against an intracity Southeastern Conference Red rival, Huron came out in a 2-3 zone as oppose to its customary press defense. It may be a style more fitting to Huron's current personnel and creates what Huron coach
Waleed Samaha
wants out of his defense: turnovers and fast break buckets.
"I wouldn't call us a zone team but we try to play to our strengths," Samaha said. "We've had to discipline ourselves as a coaching staff and as a team to use the zone as a weapon."
Lewis hit on three staight 3-pointers with an Andre Bond steal and dunk in between and it looked like Huron might run away with the game as the River Rats led 27-12 with 1:17 to go in the half.
"We did not finish at all in the first half and we let them get some confidence and (Lewis) fed off that and hit some shots that put them up by quite a bit," Skyline coach Mike Lovelace said. "Our guys were just a step slow in the first half."
Huron (5-4, 3-1) took a 30-14 lead into the break, but Skyline (6-4, 2-2) switched guard Theron Wilson, who finished with a 12 points, onto Lewis in the third quarter in an effort to slow him down and finally got some offense of its own with a 13-1 run to start the half.
Huron extended its lead back to 12 by the end of the quarter, but 3-pointers by Peter Bakker and Jack Clark on consecutive possessions made the score 46-40 with five minutes remaining.
"In a rivalry there's hardly ever a blowout because emotions are running high. Just one bucket, one steal can change the momentum," Lewis said. "We got in that timeout, we said just calm down, let's gather ourselves, let's go play basketball like we know how."
Lewis scored eight of Huron's final 12 points to put the game on ice.
"I don't even know if (Lewis) hit the rim tonight…later we had guys on him and he still hit shots with hands in his face," Lovelace said. "I was proud of our guys in the second half for battling back, it was just too late."
Marquis Wesley scored 12 for Skyline and had 11 rebounds.
Contact Pete Cunningham at petercunningham@annarbor.com or by phone at 734-623-2561. Follow him on Twitter @petcunningham.