Posted on
Wed, Mar 6, 2013 : 10:44 p.m.
Milan blows by Saline, Bedford sneaks by Lincoln to reach district final Friday
By Kyle Austin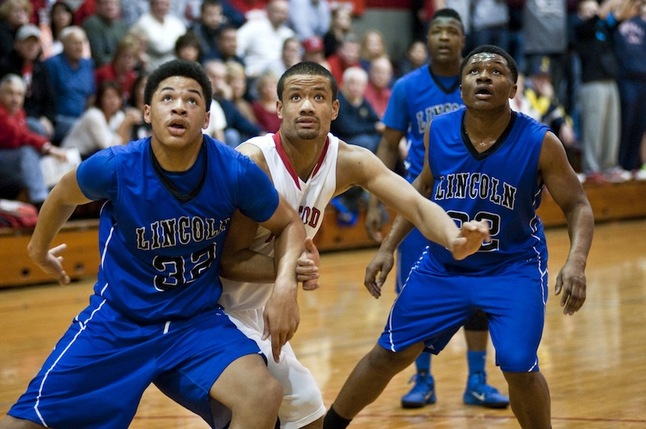 Joseph Tobianski | AnnArbor.com
TEMPERANCE -- One cruised in its semifinal win, the other barely snuck by.
But no matter the route, Milan and Temperance Bedford will be on the court Friday in a district final matchup -- in a rematch of the 53-49 Bedford win last year in the district semifinals.
"We've been looking forward to that game since they beat us last year at our place," Milan coach Josh Tropea said. "It's been on the calendar for a while."
While Milan (20-1) cruised from the start, going up double digits in the first quarter and never trailing in a 77-55 win over Saline (9-11), Bedford's win was a different story.
More Coverage: Lincoln-Bedford boxscore | Milan-Saline boxscore | Bracket | Photo Gallery | District roundup
The SEC Red champion Kicking Mules' semifinal win over Lincoln came down to the final possession. With seven seconds left, the Railsplitters had the ball down by two, but couldn't get a shot off as they turned the ball over on the inbounds play.
The matchup, pitting an eight-win team against a 16-win team, nearly resulted in a major upset.
"They don't want to hear it now, but it was our best game of the year," Lincoln coach Rich Marion said.
The Railsplitters (8-13) trailed nearly the entire game, but never fell behind by double digits. Lincoln fell behind 8-2 early, then climbed back to make it 10-7 and took a brief lead near the end of the first quarter.
Bedford led by as many as eight in the third quarter, before Javin Etchison hit a 3-point basket as time expired to tie the game going into the fourth. The Kicking Mules went up by five midway through the quarter, before Lincoln hit three late 3-pointers to make it a two-point game.
The Railsplitters finished with nine 3's, and were paced by 15 points from Sherrod Motley-Dismuke and 14 points from Tyler Mabry.
Lincoln stayed with a team receiving votes in the state rankings by executing as well as it has all year, creating open jumpshots and opportunities down low. But in the end, it wasn't enough.
"They came in and worked every day," Marion said. "They really did. I loved coming to practice. And they hadn't really been rewarded for that as much in the win-loss column as much as I would have preferred. It sure looked in the fourth quarter to me like they were about to get rewarded. That's tough to swallow in that respect."
The doubleheader nightcap proved less dramatic. Big Reds forward C.J. Turnage had 10 points, six rebounds, two assists, a steal and a dunk in the first-quarter alone as Milan jumped out to a 22-12 lead.
"We were ready for the game," Turnage said. "I guess everything was just falling for us. We were ready to play."
Turnage finished with a game-high 28 points and 10 rebounds. Latin Davis added 18 for Milan, while Nick Perkins had 15.
And after a season playing against mostly smaller competition, Milan proved itself more than capable in a Class A district.
"We kind of expected that," Tropea said. "Honestly, we expected to play that way, and we expected to be playing on Friday."
Saline was led by 22 points from point guard Reece Dils and 11 from Michael Hendrickson.
But it had to play most of the first half without big man Max Recknagel, who picked up two quick fouls.
"It's tough, any time you lose any of your starters, especially when we're already undersized, to lose a big," Saline coach Eric Williams said. "We always tell them not to play like they're in foul trouble. But it's always hovering above them."
The Big Reds took a 15-point lead into halftime, before outscoring Saline 19-8 in the third quarter.
Soon, they were on their way to a matchup with Bedford they've been anticipating all season. It's one that will feature two of the best forwards in Southeast Michigan in Turnage and Bedford's Jackson Lamb, who scored 22 Friday.
"Everybody says Jackson Lamb is the best player in Southeastern Michigan," Milan assistant coach Chris Pope said. "Well, we've got a pretty good player on our team that we want to see what happens come Friday."
And Milan knows that slowing down Lamb will be the top priority come Friday.
"We just want to stop Jackson, we feel like they're a one-man show," Turnage said. "So we want to make sure that we stop Jackson Lamb."
Kyle Austin covers sports for AnnArbor.com. He can be reached at kyleaustin@annarbor.com or 734-623-2535. Follow him on Twitter @KAustin_AA.