Posted on
Fri, Mar 15, 2013 : 5:30 a.m.
Milan gets last laugh in final Beat the Press high school basketball picks
By Kyle Austin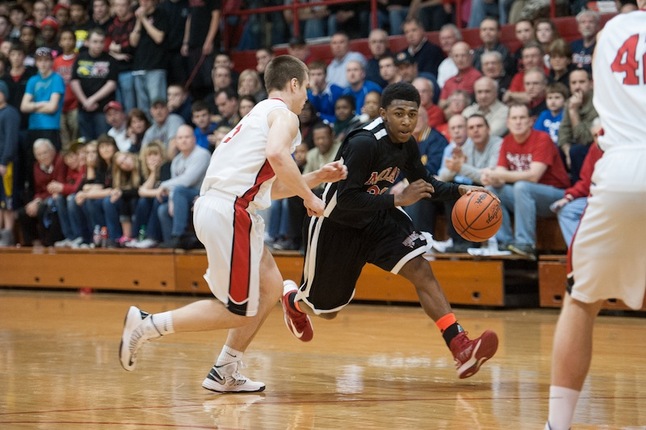 Courtney Sacco | AnnArbor.com
My first question for exuberant, sweat-soaked Milan coach Josh Tropea after his team came back from nine down to beat Temperance Bedford last Friday was simple:
Do you think you proved something tonight, coach?
"No, I think you guys maybe got a wake-up call is what I think," Tropea responded.
Touche, Tropea.
I had picked against Milan in my final Beat the Press picks, going instead with Bedford. I had also kept the Big Reds out of the top spot of my power rankings all season. It wasn't that I didn't think Milan a good team. I just didn't think they had proved it against a team like Bedford, given their schedule.
Well, they proved it in that district final, and by later advancing to a regional final against Romulus Wednesday night. And plenty of folks from Milan, whether fans at the game or commenters on our site, were happy to give me a ribbing.
But I can take it. I picked four other district champions correct to finish the week 4-1, and only got beat by six people in the final week of our picks.
The final season numbers: eight contests, 83 winners, 39-11 record, .780 win percentage. After going 2-3 during the first week and getting beat 58 times, I was topped only 25 times after that.
So Milan spoiled my perfect ending. But still not a bad rookie season.
Thanks to everyone for playing. See you for football season.
Beat the Press Winners
The following people "Beat the Press" last week: Pete Cunningham, Brad Gerbe, Brian Hogg, Scott Stine, Matt Seidl, Matthew Tomecek
People who have "Beat the Press" 83
Kyle's overall record: 39-11 (.78)
Kyle Austin covers sports for AnnArbor.com. He can be reached at kyleaustin@annarbor.com or 734-623-2535. Follow him on Twitter @KAustin_AA.