Posted on
Tue, Apr 30, 2013 : 9:16 a.m.
Milan girls tennis records first home win in three years and more Monday results
By Kyle Austin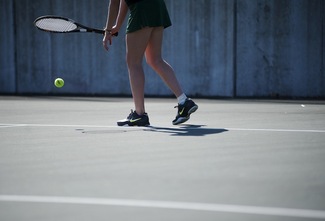 Daniel Brenner | AnnArbor.com
Girls Tennis
Milan 5, Lincoln 3
Story | Boxscore
Milan defeated Lincoln 5-3 in the Big Reds' first home win in three years on Monday, led by senior Melinda Rosales, who defeated Taylor Jones 6-0, 6-1 in No. 1 singles.
Sophomore Kendra Cote and senior Emily Walker defeated Brai Braswell and Diani Braswell 6-3, 5-7, 10-1 in No. 4 doubles. The Big Reds won two singles matches and three doubles matches.
Lincoln's Briayanna Walker won No. 2 singles 7-6 (7-5), 6-4 over Gabriella Ciavattone.
Baseball
Saline 5, Chelsea 0; Chelsea 7, Saline 3
Story | Boxscore
Host Saline recorded the 5-0 shutout win in Game 1, while visiting Chelsea recorded the 7-3 win in Game 2.
AJ Korzuck lead Saline (9-3-1) with a two RBIs, while Joey Sweigart and Michael Hendrickson each added one RBI.
Korzuck recorded the win in Game 1, allowing nine hits over six innings, walking one and striking out four.
Michael Steinhauer recorded three RBIs to lead Chelsea (1-5), while Luke Hollandsworth, Scott Crews, and Tyler Eckler each added two hits on the day.
Tecumseh 3, Huron 2; Huron 5, Tecumseh 3
Story | Boxscore
In Game 1, visiting Tecumseh's Michael Savoia recorded an RBI single in the top of the eighth inning that brought home teammate Ben Vannatter from second base to record the 3-2 win.
In Game 2, host Huron (10-3) scored four runs in the second inning, and held off a late rally to record the 5-3 win.
Boys Lacrosse
Skyline 15, Huron 2
Story | Boxscore
Dan Lee scored five goals for Ann Arbor Skyline as his team defeated Ann Arbor Huron 15-2 on Monday.
Zack Schwartz had four goals and an assist, and Jack Fisher also scored four goals. Alex Wood added three assists.
"We started off hot," Skyline coach Jack Robenalt said. "We put an emphasis on coming out hot, and playing with a lot of hustle and heart. That's what we've been keying on the last couple of games."
Boys Golf
Birmingham Seaholm Invitational
Story | Boxscore
Saline junior Alex Derksen shot his career-best competitive round of 75, earning a spot on the all-tournament team in Monday's Birmingham Seaholm Invitational.