Posted on
Fri, Jan 25, 2013 : 10:44 p.m.
Milan takes care of Monroe St. Mary, 62-30, for 19th straight Huron League win
By Kyle Austin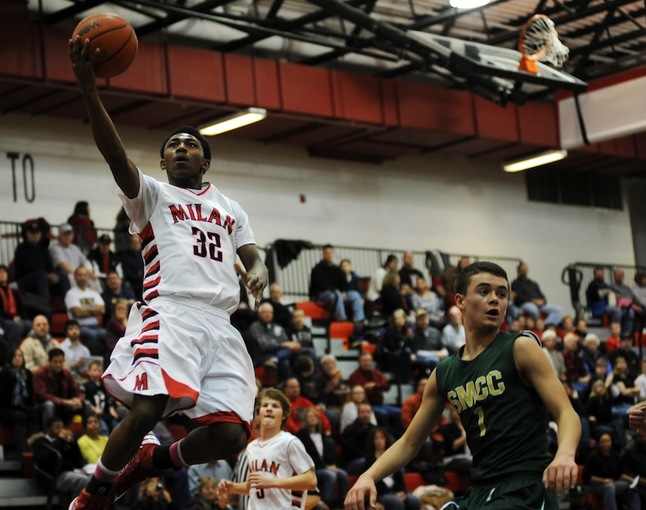 Daniel Brenner | AnnArbor.com
For the first two minutes, it seemed like the packed gym at Milan High School would see the close, hard-fought matchup that everyone expected.
Four minutes later, the rout was on.
Milan went on a 15-point run in the first and second quarters to blow the game open in a 62-30 win over Monroe St. Mary Catholic Central.
More Coverage: Boxscore | Photo Gallery
Against a Falcons team that came in with a 10-0 record and receiving votes in the Associated Press Class C poll, Milan flexed its muscles with its sixth straight win of 20 or more points.
The win moves Milan to 10-1 overall and 6-0 in the Huron League and gives the Big Reds the inside track toward their second straight league title. The two teams meet again Feb. 19.
And with a 19-game league winning streak, the prospects for the title look good.
"It would be great," Milan senior forward C.J. Turnage said. "I feel like I'd be leaving a legacy here."
After missing its first two shots then turning the ball over on three straight possessions, the Big Reds found themselves down by five early.
But starting with two minutes left in the first quarter, Milan went on a 15-0 run over the next four minutes to grab a double-digit lead.
It was punctuated by a strong take to the hole by Turnage, resulting in a bucket and a foul.
"We just got our minds right," Turnage said of the run. "In the beginning the crowd was so into it, everybody yelling, they didn't know what to do. We had to calm everybody down to get everybody back down to earth."
Turnage, who will play at Saginaw Valley State next year, finished with a line of 17 points, nine rebounds, five blocks, four steals and three assists. Sophomore guard Latin Davis finished with 15 points for the Big Reds, who put 11 players on the scoresheet.
Milan had seven blocks in the first half alone, including four by Turnage. Sophomore forward Nick Perkins, playing in his second game of the year for Milan due to the transfer rule, also had two first-half blocks.
Each one got the sizable Milan crowd more into the game, and four of them resulted in buckets at the other end.
"I thought the way (CJ) and Nick were blocking shots, it got the crowd into the game and most of our blocks turned into transition buckets the other way, and that is the big thing," Milan coach Josh Tropea said.
Whether it was from blocks or defensive rebounds, Milan was able to break out in transition and create layup opportunities. The Big Reds finished 24-of-38 from the field, a 63-percent shooting clip.
Milan went into halftime with a 13-point lead, but Tropea stressed to his team during the break that St. Mary would come out with its best effort to start the third.
St. Mary was held off the board for more than five minutes to start the first half, as Milan went on a 14-0 run from late in the second quarter until the 2:58 mark of the third.
That was part of an overall strong defensive effort to Milan that kept St. Mary out of the paint and limited them to difficult jumpers.
It also included holding St. Mary leading scorer Kevin Woodson to four points, a job done mostly by Milan guard Adam Salow.
"Adam Salow deserves a ton of credit tonight," Tropea said. "He made Woodson uncomfortable all night, he caused him to speed up, he got those charge calls, and that was Adam's job tonight."
Despite the lopsided final score, Tropea was effusive in his praise for the St. Mary program, and expects a much more difficult time in the rematch.
"We know it's going to be a dogfight when we go there," Tropea said.
Kyle Austin covers sports for AnnArbor.com. He can be reached at kyleaustin@annarbor.com or 734-623-2535. Follow him on Twitter @KAustin_AA.