Posted on
Fri, Nov 2, 2012 : 11:44 p.m.
Milan's perfect season ends with 26-6 loss to Tecumseh
By Pete Cunningham
Updated 11:37.
Tecumseh moved the ball effectively through the air, and on the ground on Friday and defensively made the Milan earn every inch of every yard gained at Milan HIgh School.
In the end, the Indians' balance was too much for the Big Reds whose undefeated season came to an end in the Division 3 district championship game with a 26-6 loss to the Indians.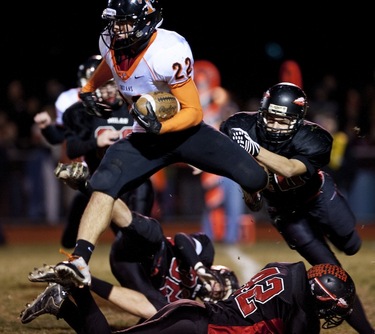 Daniel Brenner | AnnArbor.com
Tecumseh's win kept the Big Reds from their first district title since 2007 and gave the Indians their first since the MHSAA expanded the playoff field in 1999.
The Indians picked up their first playoff win since 1991 last week and on Friday moved on to the state quarterfinals for the first time since that same year when they went all the way to the Class BB semifinals.
Tecumseh's balanced hurry-up offense, led by senior quarterback Ben Dreslinski, kept Milan's defense guessing the entire game, running when Milan was set up to defend the pass and passing when Milan was set up to defend the run.
More coverage: Boxscore | Photo Gallery | Despite disappointing finish, coach proud of turnaround | Tournament bracket
"(Balance) was very important because if we just ran the ball, ran the ball, ran the ball they would come up and we'd hit 'em up top. If we passed the ball passed the ball pass the ball, they would drop back and the run would be open," Dreslinski said. "So it worked out either way."
Dreslinski completed 15-of-19 passes for 152 yards and two touchdowns. They weren't gaudy numbers by any stretch of the imagination, but he spread it around to four different receivers, three of whom had at least four catches, making it impossible to key on just one guy.
Dreslinski ran for another 40 on eight carries and Spencer Hite helped balance the attack with 33 carries for 123 yards and two touchdowns.
For the second week in a row, Milan coach Jesse Hoskins was upset with his team's execution on both sides of the ball.
"Honestly we knew what was coming, we were in good position, they just made some good plays. They've got some good players over there and they just made some plays," Hoskins said. "We were in good position, they made the catch. We were in good position, we missed the tackle. Had the quarterback sacked, he ran around and made a big conversion.
"That's just the way it went tonight."
Milan's offense moved the ball decently most of the night a, but could never find the big runs its been able to rip off all year. Arthur Dukes had 19 rushes for 63 yards and Robert Kanitz rushed 12 times for 91 yards, but the pair only had four carries of more than ten yards between them all night. Justin Aceves completed 6-of-14 passes for 82 yards and an interception.
After averaging 36.8 point per game in the regular season and never scoring less than 21, Milan scored a combined 20 points in its two playoff games.
"I think a lot of it was our lack of execution," Hoskins said. "I'm not taking anything away from them. We've played pretty well offensively all year, when we don't execute it doesn't matter who it was against, it was what we didn't do a lot of the time."
After a Milan three-and-out to start the game, Tecumseh started with good field position after a shanked Milan punt and only needed to go 39 yards to take the lead with Hite's first touchdown run with 7:58 to go in the first quarter.
Milan responded with a 15-play, 68 yard drive that took 8:02 off the clock, capped by a Robert Kanitz 1 yard score. A missed extra point attempt kept Tecumseh's lead intact and a 70-yard, four minute drive that took just four minutes out of the no-huddle expanded it to 14-6.
Tecumseh coach Al Romano said he decided to push the tempo because he felt playing on both sides of the ball might be wearing on the some of the Milan defenders.
"Our game plan was to pick up the tempo because they play a lot of guys on both sides of the ball and we don't, and we felt we had them a little tired there in the second and we thought we'd tire them out in the fourth quarter, too," Romano said. "That's the reason for our tempo."
Milan looked poised to answer back, but threw an interception inside the red zone with under a minute to play to end the half.
"We still made too many mistakes and that's hard," Hoskins said. "Tomorrow, tonight or whenever we look at this, we're going to say we made too many mistakes to win the football game and were playing too good of a team to make those mistakes at the end."
Tecumseh started with the ball in the third quarter and went right back to work with Dreslinski hooking up with Spencer Adams for a 24 yard score with 7:30 to go in the third. A failed two-point conversion made it 20-6.
After both teams traded punts, Dreslinski put the nail in the coffin with a five yard touchdown pass on fourth down with 4:33 left in the fourth quarter. Milan brought a blitz and two men hit Dreslinski as he threw a desperation heave into the end zone. Kyle Bryan came back for the well short pass and all but ended any chance of a Milan comeback with the score.
The 26 points was the most Milan gave up all season.
Milan finishes the season 10-1, the first ten-win season for the school since 1997. Tecumseh advances to play Battle Creek Harper Creek which beat Plainwell 26-10 on Friday.
Pete Cunningham covers sports for AnnArbor.com. He can be reached at petercunningham@annarbor.com. Follow him on Twitter @petcunningham.