Posted on
Tue, Jun 25, 2013 : 5:30 a.m.
Minnesota football's Berkley Edwards is AnnArbor.com 2013 Washtenaw County boys track and field Athlete of the Year
By Kyle Austin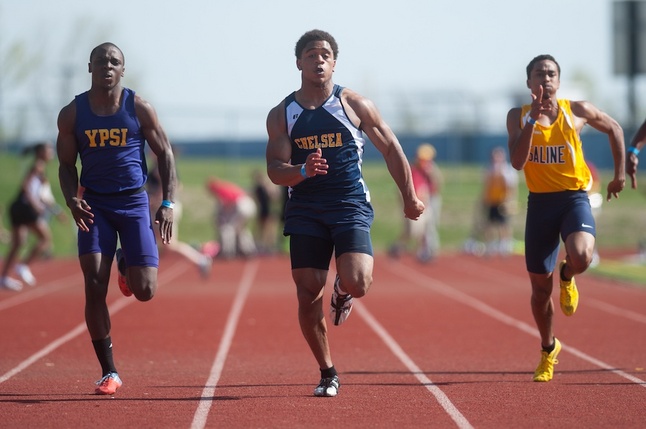 Courtney Sacco | AnnArbor.com file photo
Berkley Edwards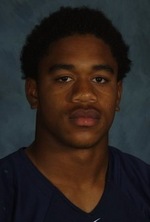 School:
Chelsea
Class:
Senior
Notable: Chelsea senior Berkley Edwards was the only Washtenaw County male athlete to win an individual state track title. And he did it twice. Edwards won the 100 and 200-meter dashes at the Division 2 state finals June 1 at Forest Hills Eastern, in the fastest field among the four state championships. He ran the 100 in 10.52, less than a tenth of a second from the state record. In the 200, he was just a hundredth of a second from the state record set last year, finishing in 21.37. Both times marked career bests for Edwards, and his performances helped the Bulldogs capture the school's first-ever state title. He finished unbeaten in the sprints during his senior year. Bulldogs coach Eric Swager said that after finishing in fifth in the 100 in 2012, Edwards made a commitment to amping up his offseason training. "He decided that this year that he was going to be in the best shape of his life," Swager said. While Edwards gets the most attention for his football exploits and family-- he was the county's second-leading rusher and is the younger brother of former Michigan great Braylon Edwards -- track is more than just an offseason time-filler. Edwards' father, Stan, is a track coach and has coached Berkley's AAU teams since he was young. Edwards is committed to play running back at Minnesota next year. Swager said he is hoping he will also be able to compete in track and field for the Golden Gophers.
AnnArbor.com Spring 2013 Washtenaw County Players of the Year
AnnArbor.com will reveal its Spring 2013 Washtenaw County Players of the Year throughout the week following the schedule below. Articles on all 10 athletes of the year as well as photos will be packaged in a special section in the AnnArbor.com print edition on Sunday, June 30.
Player of the Year schedule:
Tuesday: Boys track and field, girls track and field
Wednesday: Girls soccer, boys golf
Thursday: Boys lacrosse, girls lacrosse
Friday: Girls water polo, girls tennis
Sunday: Baseball, softball
Kyle Austin covers sports for AnnArbor.com. He can be reached at kyleaustin@annarbor.com.