Posted on
Thu, Dec 6, 2012 : 10:40 p.m.
Motivated by slow start a season ago, Pioneer girls basketball opens with two big wins
By Matt Durr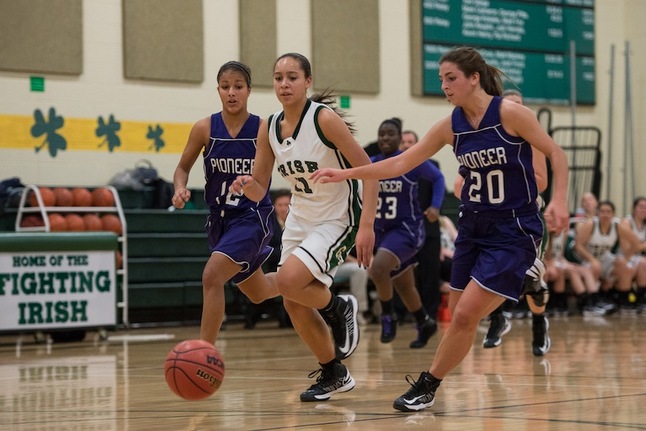 Courtney Sacco | AnnArbor.com
Starting the season strong is always a goal for any team, but after losing their first four games a season ago, the Pioneer girls basketball team knew what could happen if they repeated that effort this season.
"After last season and knowing how down we got about that, it's important that we move on from that," said junior Emily Turner after beating Father Gabriel Richard Thursday night, 55-48. Related Coverage: Story | Boxscore | Photo Gallery
The Pioneers never fully recovered from their early season woes, but have used that memory as a catalyst to open this season with more positive results.
"The fact that we didn't get off to a good start last year, just motivates us so much this year to try so hard and go out with so much intensity and win," senior Desiree Cougill said.
Cougill finished Thursday's game with 25 points and 10 rebounds to lead the Pioneers.
Pioneer is now 2-0 on the season having defeated South Lyon earlier in the week.
"It's good to get a couple wins under our belt against some pretty good, pretty experienced teams," said senior Jennifer Fichera. "Especially after last season where we won so many games after our rough start, so we know we're capable. It's definitely important."
FIchera had 13 points, eight rebounds and five assists in the win.
Going through the ups-and-downs of last season brought the team closer together despite there not being a lot of experience on this year's team.
"The girls, of course they remember last year, we all remember last year," said head coach Crystal Westfield. "I'm telling you, those four girls, Emily, Brianna (Worthing), Jenny and Desiree have a really good chemistry.
"They can read each other really well."
Fichera agreed.
""I feel like it definitely helps us on the court," Fichera said. "We actually don't have a lot of people who played varsity on the team last year, but we have a solid group of people who know each other well and play well together."
While going through those tough times may have brought the team together, winning ballgames is always the way to move past an obstacle. Especially when the team beats an inner-city rival and defending district championships team like Gabriel Richard.
"They've always been one of our biggest challenges so just to know that we've already knocked one of them down is a great feeling," Turner said.
Matt Durr covers sports for AnnArbor.com