Posted on
Fri, Nov 30, 2012 : 5:59 a.m.
Swimmers at the heart of Saline's swimming dynasty earn college scholarships and other local signings
By Pete Cunningham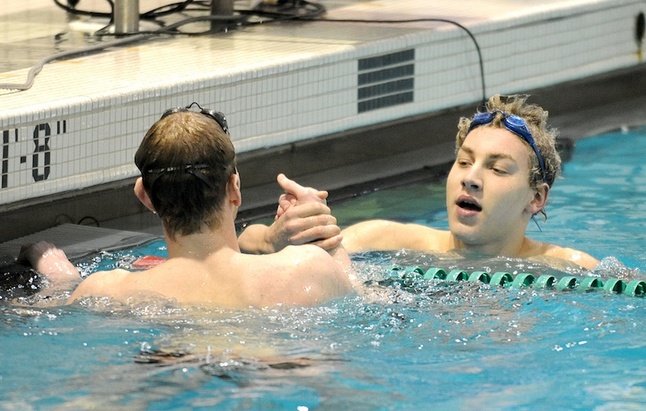 AnnArbor.com file photo
The Saline High School boys swimming and diving team will attempt to win its fourth straight Division 1 state championship this season. At the heart of every team dynasty are talented individuals and Saline's case has been no exception.
That much was apparent when three of the swimmers who have been the core of Saline's success over the past three years signed Division 1 college scholarships during the early signing period.
Seniors David Boland, Adam Whitener and Josh Ehrman committed to the University of Louisville, the University of Virginia and Purdue University respectively last week confirming what many have known for quite some time: this group of swimmers is something special.
Between them, Boland, Whitener and Ehrman have earned 33 all-state medals to go along with their four team championships. Boland will this year have the chance to pull off a state championship sweep of the 200 yard individual medley and 100 butterfly having won it each of his first three years in high school. Whitener has won four individual events and Ehrman one to go along with the several championship relay teams they've been a part of.
The three have known nothing but success throughout their high school careers and will attempt to become the first team to win four straight team titles since Birmingham Brother Rice won five straight Class A titles from 1994-1999. While runs of two and three straight state titles are fairly common in swimming only Brother Rice and Pioneer 1977-1982 have managed to win four in a row in Class A/Division 1.
While Boland, Whitener and Ehrman may be the most decorated of the local athletes to sign scholarships over the early signing period that ended last week, they certainly weren't the only ones. Here's a look at some other individuals who signed National Letters of Intent last week:
Boys swimming and diving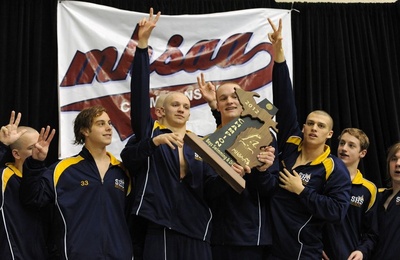 Angela J. Cesere | AnnArbor.com
Josh Ehrman, Saline:
Ehrman will continue his swimming career at Purdue University. As a junior, Ehrman was Division 1 state champion in the 100 yard breaststroke and swam in Saline's state champion 200 medley and 400 freestyle relay teams. He was also runner up in the 200 individual medley and part of Saline's state title winning 200 medley relay team in 2011. Saline has won the team state championship every year of Ehrman's high school career and he has been all-state nine times.
Sam Blair, Saline: Blair will dive at the University of Louisville. Blair was third in the state in 2011 as a junior for Saline's state championship squad.
David Boland, Saline: Boland will join Blair at the University of Louisville. An integral part of Saline's three straight state title winning teams. He has won the 200 individual medley and and 100 butterfly every year of his high school career and twice swam a leg on Saline's first place 200 medley and 400 freestyle relay teams. Saline's third place finishes in the 200 medley and 400 freestyle relays from Boland's freshman year are the only events at the state championships Boland has participated in and not won.

Adam Whitener, Saline: Whitener will continue his swimming career at the University of Virginia. Whitener has won the state title in the 100 and 200 freestyle and swam on Saline's state title winning 400 freestyle relay team each of the past two years. He also swam on two state title winning 200 freestyle relay teams and has been all-state 12 times.
Baseball
Carsten Dembeck, Father Gabriel Richard:
Dembeck signed a letter of intent to play baseball at
Ashland University
, a Division II school in Ohio.
Alex Maloney, Chelsea: Maloney will continue his baseball career at Ball State University where he'll be coached by his father, Rich Maloney, the former University of Michigan coach. Maloney helped lead Chelsea to district and regional titles in his junior season, hitting .333 with four home runs. He has been the starting shortstop for Chelsea since his freshman year and also projects as a possible right handed relief pitcher in college.
Demtrius Sims, Huron: Sims will continue his baseball playing career at Bethune-Cookman University in Daytona Beach, Florida. A 6-2, 175-pound right-handed hitting infielder, Sims is the top-rated shortstop in the state of Michigan by Perfect Game USA.
Girls swimming and diving
Cristina Czyrka, Saline: Czyrka will swim for University at Buffalo. Czyrka was a member of Saline's state title winning 200 medley relay team in 2011 and swam on Saline's Division 1 state championship teams as a freshman and a sophomore. She was all-state eight times in her career.
Madeline Frost, Saline: Frost will continue her swimming career at the University of Michigan where she has trained with Club Wolverine throughout her high school career. She is ranked the third-best swimmer in the state of Michigan according to CollegeSwimming.com. Frost won a state title as part of Saline's 400 freestyle relay team at this year's state championships and also finished second in the 50 freestyle, fourth in the 100 backstroke and swam on Saline's third place 200 medley relay team. She earned all-state honors 15 times in her high school career.
Boys golf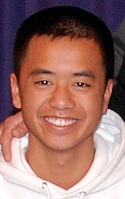 Henry Do, Greenhills:
Do signed a letter of intent to play golf at the University of North Carolina. Do played for Greenhills as a freshman and sophomore, winning an individual state title in his sophomore season while leading the Gryphons to a second place team finish in the Division 4 state championships. As a freshman, Do tied for third place as an individual and Greenhills finished in fourth as a team. He did not compete for Greenhills in the 2012 high school season and competed exclusively in American Junior Golf Association events.
Girls softball
Taylor Cooley, Chelsea: Cooley will continue her softball career at Ball State University. She helped guide Chelsea to a district championship her junior year by posting a .439 batting average with 49 runs scored and 30 RBI and was a perfect 23-for-23 in steal attempts. Cooley also had three home runs while posting four triples and three doubles last season.
Boys basketball
Reese Dils, Saline: Dils will play college basketball at Ohio Dominican University. Dils has been a starter on varsity since his freshman year, though he sat out last season with an injury.
C.J. Turnage, Milan: Turnage has committed to play Saginaw Valley State University. In his junior season, Turnage, a 6-5 guard/forward, averaged 14 points per game despite seeing fourth-quarter action in just five games. Milan went 18-3 with a 19.4-point average margin of victory.
Girls basketball
Riley Singleton, Chelsea: Singleton, a 6-2 forward, will continue her basketball career at Davenport University in Grand Rapids, which competes in NAIA.
Girls golf
Madison Smith, Huron: Smith will golf for Cleary University, which competes in the United States Collegiate Athletic Association. Smith competed on varsity for Huron for all four years of her high school career and twice made the MHSAA Division 1 state finals as an individual.
If you know of an athlete who signed a National Letter of Intent during the early signing period or plans to sign during the regular signing period, which begins Feb. 6, please send an email to petercunningham@annarbor.com.
Pete Cunningham covers sports for AnnArbor.com. He can be reached at petercunningham@annarbor.com. Follow him on Twitter @petcunningham.