Posted on
Mon, Jun 3, 2013 : 5:45 a.m.
New Dexter football coach Ken Koenig says he isn't going anywhere
By Kyle Austin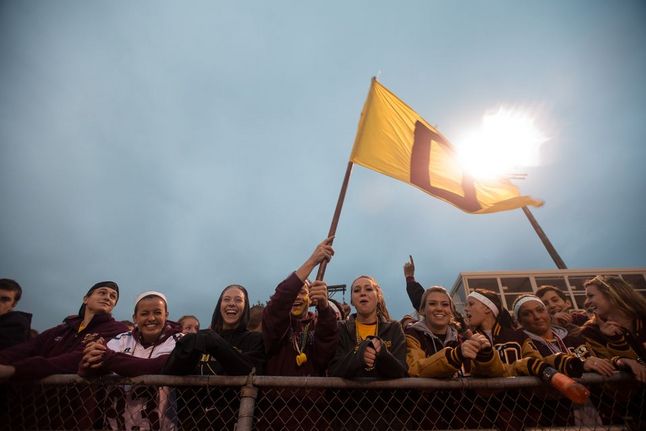 Courtney Sacco | AnnArbor.com
New Dexter football coach Ken Koenig says Dreadnaughts football players who have been through three coaching changes in the past year can expect some stability following his hiring this week.
"They know I'm not going anywhere," Koenig said Friday. "They know I've been a constant at one level or another."
The Dexter High School assistant principal has been involved with the football program as an assistant coach for 12 years. Koenig served as defensive coordinator under former coach Tom Barbieri from 2001-08. After that, he coaches at the freshman and junior varsity level for four years. He said he's coached nearly every player in the varsity program at one level or another.
Before coming to Dexter, Koenig spent six years as an assistant at East Detroit High School. This will be his first head coaching position.
Koenig said he plans to install a "steady" offensive system, focused on establishing the run game to set up the passing game. On defense, the Dreadnaughts will use an attacking style defense similar to what's been used in the past.
On both sides, Koenig said his philosophy is to keep things simple enough so that players can develop a strong understanding of the system they are playing in.
Koenig was hired as coach six weeks after the resignation of Mike Glennie, who held the job for less than two months.
According to e-mails between Glennie and Dexter athletic director Mike Bavineau, obtained by AnnArbor.com through a Freedom of Information Act request, Glennie inquired multiple times about facilities upgrades between early March and his mid-April resignation.
Those inquiries included about whether bond money would be used for locker room and weight room renovations at Creekside Middle School. In a March 25 e-mail, he asked whether district administration would "make the financial decision to support or not support the football program getting back on its feet."
He resigned April 17, and later told the Dexter Leader that "the vision to make positive changes within the athletic department that (Bavineau) and I shared was not shared with various members of the community."
Koenig said he thought Glennie was "taken aback" with some of the differences between the programs at Saline and Dexter, but that Dexter could be a successful program with its resources.
"I think the same results can be achieved," Koenig said. "The resources are coming, things are really starting to turn heads."
Kyle Austin covers sports for AnnArbor.com. He can be reached at kyleaustin@annarbor.com or 734-623-2535. Follow him on Twitter @KAustin_AA.