Posted on
Thu, Jan 10, 2013 : 6:01 a.m.
New name, same game; AnnArbor.com's high school picks competition returns for basketball season
By Kyle Austin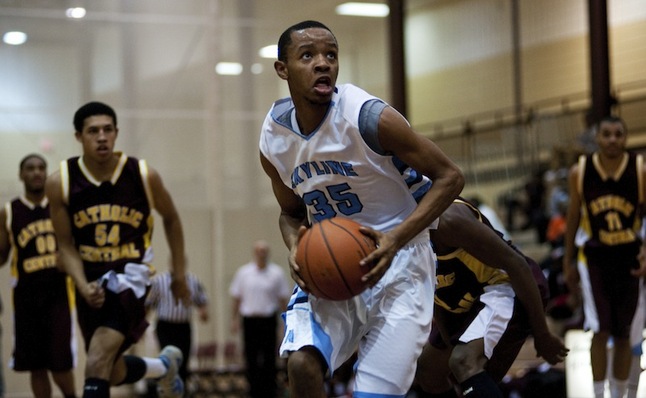 Daniel Brenner | AnnArbor.com
There's nothing quite like a clean slate.
I'll enjoy it now, because it'll likely be short lived.
Today marks my high school basketball predictions column debut for AnnArbor.com, so my official record is 0-0. More importantly, nobody has beat me. Yet.
I expect that will change soon, though, because our readers have proven capable prognosticators in the past, high school hoops always contains surprises, and I have a penchant for long shots. What can I say, I like an upset.
A note about the title: we're going with "Beat the Press," mostly because Kyle doesn't rhyme with the word beat, or any synonym of it. We can't all have "Beat Pete" dropped into our laps like my predecessor did.
It's also fitting because I'll be putting on a full-court, pressure defense every week to keep my record pristine. Or at least respectable.
We'll be picking a handful of top games every week, both boys and girls, focusing on ones we expect to be the most competitive and have the most local interst. Submit the form below before tipoff Friday night and you're eligible to win.
Those that finish the week with a better record than me will see their name in print, and will have seven days of gloating.
We're starting this week, the first of the second semester, with most conference play underway. That means we'll start to see some of our county teams play one another more often -- and get more familiar with one another.
Our premier matchup this week is on the girls side, where the No. 1 and No. 4 teams in our power rankings face off in what should be a good matchup between Dexter and Ypsilanti.
Ypsilanti will be coming off a three-week layoff, which makes for a hard pick. A layoff like that either gives a team plenty of practice time to address its weaknesses, or creates rust that's hard to shake off.
Dexter, meanwhile, came out of break with a strong win over Saline last week. Both teams come in with one loss, but I'll give Dexter the edge based on strength of schedule.
We've got three other boys games and one other girls game on this week's slate, so gets your picks in today and try to Beat the Press.
Kyle Austin covers sports for AnnArbor.com. He can be reached at kyleaustin@annarbor.com or 734-623-2535. Follow him on Twitter @KAustin_AA.